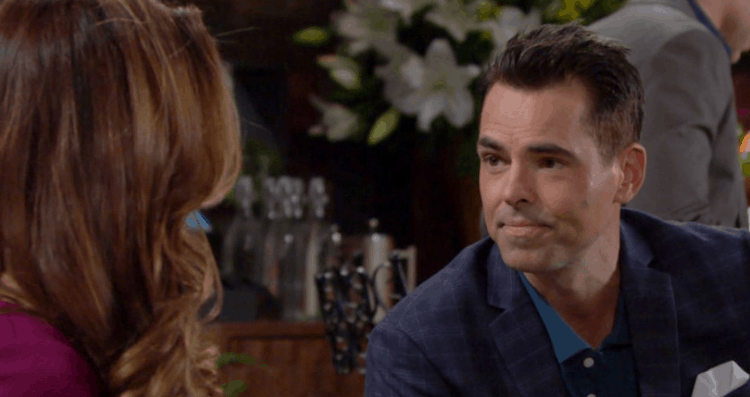 Young and the Restless fans are really with Abby right now. Her life might not be going the way that she thought it might go right now, but she is a woman who knows that things will turn around. For now, though, she's watching as Devon very quietly falls apart. She's worried for him, and she should be. He is not handling this well, but who would? His wife. Their unborn baby. Now his father? He's living the worst life that anyone can even fathom at his moment in time, and there is nothing that she can do to help him other than worry for him, be there for him, and wonder if there is a chance she can help him. The rest of his family is so wrapped up in how they feel and what is going on in their lives, and they don't seem to notice the quiet pain he is in. They assume it is like their own. But Abby will help.
Then there is the stuff that is going on with Cane. His wife has left him. She's not interested in him anymore. She is not trying to live a life that involves him, that includes him, and that has him in any aspect of her future other than to continue to be the father of her children. She's done with him and all that he is and has for her. And he's talking about it with Jill, who will be very honest with him and not hold anything back. What she says might be a surprise to everyone else around him, and that might not come as a shock to some, but it is to others. He needs to hear what she has to say, and it might just do him a world of good.
What's Happening on Young and the Restless
To kick off the countdown to the #DaytimeEmmys, we're having a Facebook live with two of our nominees! Join #YR's Peter Bergman and @BethMaitlandDQB as they answer your questions tomorrow at 4:00pm ET/1:00pm PT. pic.twitter.com/GAVOdV8twr

— Young and Restless (@YandR_CBS) April 30, 2019
Did you get to see this? Was it amazing?
What's Next on Young and the Restless
Cane opens up to Jill today on #YR. pic.twitter.com/Hs4aNUgRDY

— Young and Restless (@YandR_CBS) May 1, 2019
There's a lot happening with Victor right now, and none of it is good. He is a man who has some trouble to face, but he's not being very open with his family about what it is and how it will affect him. He's just sitting around wondering if there is anything he can do to change his own life, to live his own life, and to focus on the many things upsetting him. He cannot handle having his own wife go behind his back to figure out what he is up to any more than he can stand the idea that his daughter and the man she is with are doing the same. He's not happy, and he's about to take control of that situation. And, we suspect, some other situations, too. He's not the type to sit back and wonder if there is much to life other than what he is up to, and that makes us question more than we know.
On the flip side, Kyle will make a promise to Lola behind Summer's back. She's not happy with him at the moment, but Lola has never been more into him than she is now that he is a married man she cannot actually have in public. The world might not know that his marriage to Summer is nothing more than a favor to her in a time of need, but Lola knows, and Kyle knows. Everyone else thinks it's real, and they have to continue to make it seem that way. Can they, at this rate?
Stay tuned for more Young and the Restless and be sure to check out TVOvermind daily for the latest Young and the Restless spoilers, news, and updates.