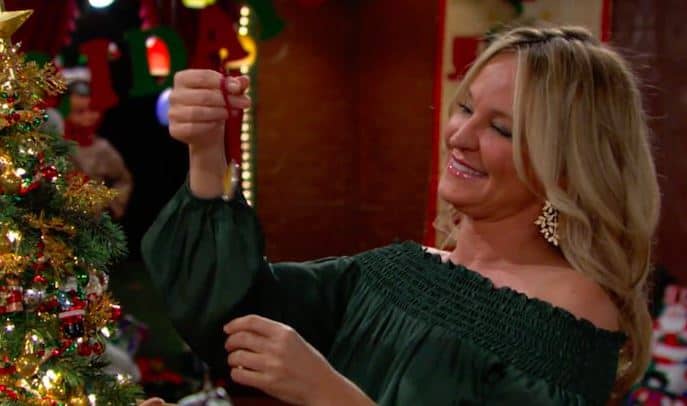 Young and the Restless fans are all excited about all that is going on this week. We've seen Victor return, we've seen a family in need of a miracle, a couple of kids worried that their lives will forever change if they are not able to find a way to get out of the mess that they are in. It's not exactly great news for them, but they have to find a way out of that. But there is a chance that they can get away with this if they play their cards right, but we do wonder at what expense it is that this is happening to them. If they can make it happen to get away from everything, we wonder if they will sacrifice their own lives and their own issues to make this happen. It's not something we can predict, but we do think that what they are doing is going to make a mess of everything they have and their futures.
We also know that there are some people back in town. Mac is one of them. And there is a mysterious figure that will bring some big issues to some, if we can predict that correctly. This is a problem for many people, but we do think that there is a lot more happening around here than we imagined. There's a lot going on, there's a lot happening, and there is a lot that might just make people feel a little bit overwhelmed. We do think that there is something of a mess to pick up and clean up and make work, but this is going to be an interesting few weeks at the holidays end, the new year begins, and everyone starts to make their mark on the world as it works out for them. It's going to be good.
What's Happening on Young and the Restless
From #FrankSinatra to #MariahCarey, check out this list of favorites that's sure to have you rocking around the Christmas tree! https://t.co/Ys8xd8ZX2S #CBS #CBSWatch #YR pic.twitter.com/3B5jdQ6S3r

— Watch! Magazine (@CBSWatch) December 24, 2018
And here you go. This is what you've been looking for, and we hope you enjoy every second of it along with the best time of the year as it is all here for us to enjoy right now.
What's next on Young and the Restless
Look out Genoa City, Victor Newman is home for the holidays! 👏 #YR pic.twitter.com/sgraumIWBa

— Young and Restless (@YandR_CBS) December 25, 2018
Kyle cannot catch a break when it comes to Lola. He wants so badly for things to work out for them, but she's not convinced that he is the right man for her. For one, she knows that he is too immature. And then there is Summer. She's not about to lose him to Lola, and she'll do anything and everything in her power to make sure that does not happen. There's too much at stake for her, and she's not losing out on any of that. She's a mess, and she's in their way for every second she can find time to be in it. She's a wreck, and we get that. We get that there is too much in her world that will make them feel bad about themselves, and we feel that there is too much in her world that will change her.
Nikki, on the other hand, is about to shock her family. It turns out there might just be a chance that they can get their lives together, they can get things handled, and they can make it work for them. They have a lot to go on, a lot to make work, and a lot to deal with — and she's about to shock them all. This is the miracle they've been looking for, and we think that this is going to be that time of year for them. We cannot help but wonder if this is their Christmas miracle in every form as it happens to unfold.
Stay tuned for more Young and the Restless and be sure to check out TVOvermind daily for the latest Young and the Restless spoilers, news, and updates.