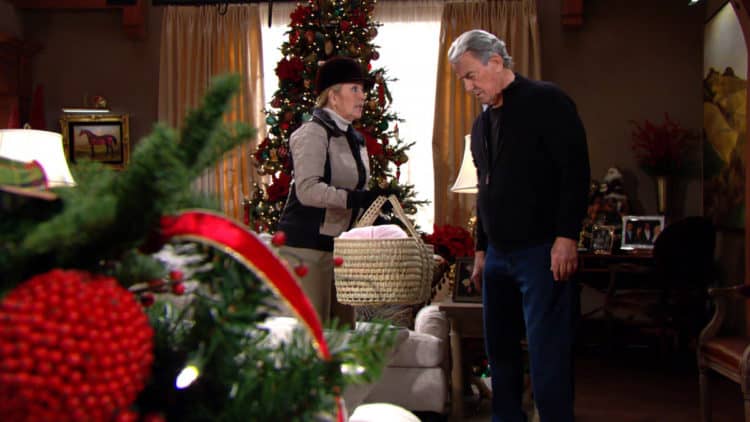 Young and the Restless fans got to see a brand new episode of their favorite show on the last day of the year, and it seems that there are changes to be made in the new year. Adam is going to find that his brother turned the table on him, and he's doing what he needs to do to get his life back. He wants Chelsea for himself. He does not want her to live with Adam. He doesn't want her son living with his brother, even though he is the father of the boy, and he's not sure he can live like this any longer. He's taking this into his own hands and his own mind, and he's not playing another game. He's done and over it, and that is all there is to it. He's taking the control back into his own hands, and he's making the game a little different.
On the other side of things, Jill has some questions for Chance — and he for her. They will go back and forth, and we could not figure out what the entire thing was really about. We do know, though, that his answers did not seem very honest or open, and that she does not seem to believe a word that he said. It's all a mess for them, but we do suspect that they can work through this and make some positive changes. Whether those changes actually work or not might not make it obvious right now, but things are changing and we can see it all happening without so much drama. Of course, the new year is here, and things will take a big turn, though we are not sure just how big of a turn things are going to take. It could be big news for all.
What's Happening on Young and the Restless
In honor of his 30th anniversary, Peter Bergman is looking back at his history on #YR! Remember these iconic moments? pic.twitter.com/Zju3FRgMYz

— Young and Restless (@YandR_CBS) December 30, 2019
Will we ever get tired of listening to him?
What's Next on Young and the Restless
It's a time for big changes and big decisions. 🎉 Don't miss what happens this week on #YR! pic.twitter.com/C4KdIkms2R

— Young and Restless (@YandR_CBS) December 29, 2019
It looks like fans of this show are getting quite the treat as there will be no preemption this week for the new year. You will see a new situation, a new problem, and a brand-new year all in one this year. You'll see that there is a problem with Adam, who is about to cross a line. We have to assume that line is being crossed along with Chelsea, and that might mean something big is going on in the world, but that's not going to make anyone else feel good about it. We also know that there is a lot happening around town as we see people like Victoria continue to worry. Her concern for him is palpable, and there is little we can do to make it stop.
However, we can make things seem a bit more obvious in our own lives if we just take a moment to see how she's finally show some concern. Is this because she suspects that he is cheating on her or simply that he is spending too much time with Amanda, and is that the only reason she's noticed that he is going to lose his mind? We don't know what is going on, but we don't know how else to focus on what is happening with him right now when she's finally decided to take notice of what is going on in front of her own two eyes. She's not been that good at it in the past, and it's catching up to her if we had to guess her issues going forward.
Stay tuned for more Young and the Restless and be sure to check out TVOvermind daily for the latest Young and the Restless spoilers, news, and updates.
Tell us what's wrong with this post? How could we improve it? :)
Let us improve this post!