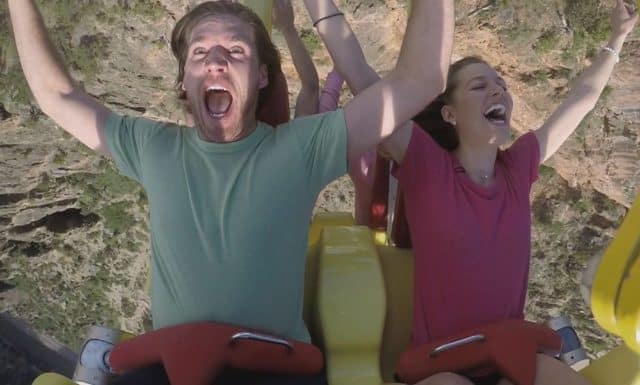 Xtreme Screams is one of the new TV shows that can be found on the Travel Channel. Like most travel-oriented TV shows, it focuses on tourism opportunities that share a particular theme. In the case of Xtreme Screams, it claims to visit some of the most thrilling locations that can be found in the entire world, which can be interesting to people with a passion for adventurous outings.
Here are 5 things that you may or may not have known about Xtreme Screams:
Focuses on Extreme Tourism
Given the name, it should come as no surprise to learn that Xtreme Screams focuses on extreme tourism, which is when people seek out either dangerous places, dangerous activities, or combinations of both. With that said, it is important to note that the term is rather nebulous in nature, meaning that it can encompass a wide range of tourism opportunities that include but are not limited to bungee jumping, Chernobyl Tours, and climbing Mount Hua by choosing the route that consists of nothing but planks that have been hammered together.
Will Be Debuting as Part of Scarecation
Since Xtreme Screams started up in the month of October, people who pay attention to the Travel Channel might have guessed that it is part of the Scarecation programming event. Like its name suggests, Scarecation is a week-long programming event that will focus on tourism opportunities that can provide interested individuals with a real thrill, thus making it that much more suitable for the month of Halloween.
One Example Is Terror-dactyl
One example of the tourism opportunities shown on Xtreme Screams is something called the Terror-dactyl. This is a ride that can be found out in the state of Colorado at the Cave of the Winds Mountain Park. Suffice to say that it launches its riders 200 feet into a canyon at a maximum speed of 100 miles per hour, thus making it something that has brought in a lot of thrill-seekers over the course of its existence.
Another Example Is Verzasca Dam
Another example is the Verzasca Dam that stands at 721 feet, which makes it the fourth tallest such structure in Switzerland. Primarily, it is famous for being a popular place to visit for people who are interested in bungee jumping, which started up when a stuntman performed one of the most memorable stunts in cinematic history for GoldenEye. Further exposure in various movies and TV shows have made the spot even more popular in what can be considered a self-sustaining phenomenon.
Eight Episodes Have Been Ordered
So far, the decision-makers at the Travel Channel have ordered eight episodes of Xtreme Screams, with each episode being about a half-hour in length. However, should the TV show prove to be successful with its intended viewers, it seems probable that more episodes can be ordered as needed. After all, there are plenty of extreme tourism opportunities that can be found out there in the world, meaning that there is plenty of material that can be turned into something watchable for those who find the premise to be intriguing.