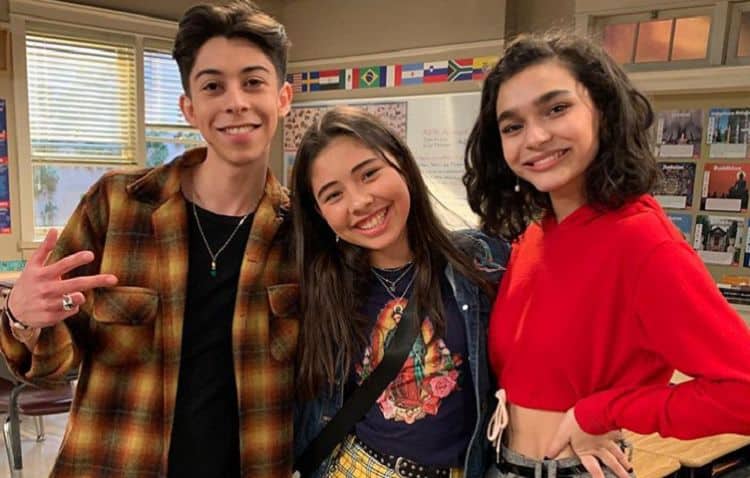 Xochitl Gomez is only 14-years-old, but in just four years she's managed to rack up 20 acting credits. After a series of minor roles, Xochitl got her big break in 2020 when she portrayed Dawn Schafer in the reboot of The Baby-Sitters Club series. Since then, She has been on lots of people's radars thanks to her acting talents. Recently, it was announced that she had been cast in her very first major feature film role. She will play a main role in the film Doctor Strange in the Multiverse of Madness which is set to be released in 2022. Now that she is officially a part of the Marvel Comic Universe, the possibilities for her career are endless. Keep reading to learn 10 things you didn't know about Xochitl Gomez.
1. She Has A Huge Collection Of Baby-Sitters Club Books
Xochitl was born in 2006 which makes the original Baby-Sitters Club way before her time, however, that doesn't mean she was completely out of the loop on the franchise's history. Her mother has always been a big Baby-Sitters Club fan and jokingly referred to herself as "a Dawn" over the years. Thanks to her, Xochitl has a big collection of Baby-Sitters Club books.
2. She Started Acting When She Was 5-Years-Old
Working is probably the last thing on most people's minds when they're in elementary school. But by the time Xochitl was fine was five she already discovered something she loved to do. At that age, she began acting in local musicals and quickly fell in love with the craft.
3. She Understands The Importance Of Representation
In The Baby-Sitters Club books and the original series, Dawn Schafer was a blue eyed blonde haired character. Xochitl is neither of those things. The decision to make Dawn Latina in the reboot was deliberate and it's a choice that Xochitl believes was very meaningful. She told Starry Magazine, " I can tell you that it is so important that a Latina character and her family is represented in this series because growing up I never really saw anyone who looked like me on a popular TV show. It really impacts me as a person just to know that they were going to make a show that had a Latina girl in it and figuring out that I was going to be in it."
4. Her Mom Has Been Her Biggest Influence
For lots of actors, the person who has influenced them the most is someone who also works in the entertainment industry. Xochitl, on the other hand, found her biggest inspiration in a source much closer to home: her mother. Even though her mom isn't an actress, she has always been very supportive of Xochitl and has done everything she can to help her daughter be successful.
5. She Was Nervous About Her Role In The Baby-Sitters Club
Being cast in a reboot or spin-off is never easy because there are already lots of expectations tied to the original. This is something Xochitl had to deal with when she got the part and it made her very nervous. On top of fans saying rude things because she doesn't look like the original Dawn, Xochitl also felt pressure to live up to The Baby-Sitters Club legacy.
6. She Loves Doing Volunteer Work
Teenagers may have a reputation for being apathetic and self centered, but Xochitl isn't that kind of 14-year-old. She loves giving back to the community and helping those around her. In 2018, she did some volunteer work with Friends of the LA River to help clean the river.
7. Her Name Means Flower
Xochitl, which is pronounced like So-Chee, is a very beautiful and unique name that has a special meaning. According to Xochitl, her name means flower in a language called Nahuatl. This language is most commonly spoken in Mexico and areas of Central America.
8. She Likes To Swim
Lots of things about Xochitl's life are completely different from other people her age, but there are also some similarities. Like every other teenager, Xochitl loves to have fun and spend time with her friends. When she isn't busy with working, she loves to go swimming and do other outdoor activities.
9. She's A Hamilton Fan
Her focus may be on on screen work at the moment, but Xochitl loves theater. She loves seeing Broadway shows and she is a big fan of Hamilton. Even though Hamilton isn't on tour at the moment, it was recently added to the Disney + streaming service so people can watch in the comfort of their homes.
10. She Likes To Spread Kindness
Xochitl is a very positive person and this is something she hopes to spread through her work as an actress. She is a firm believer that all people should be treated with respect and she has used her platform to promote this idea. When asked if she had any advice for her fans, she told We Are Entertainment News, "Be kind. Treat others as you would want to be treated."