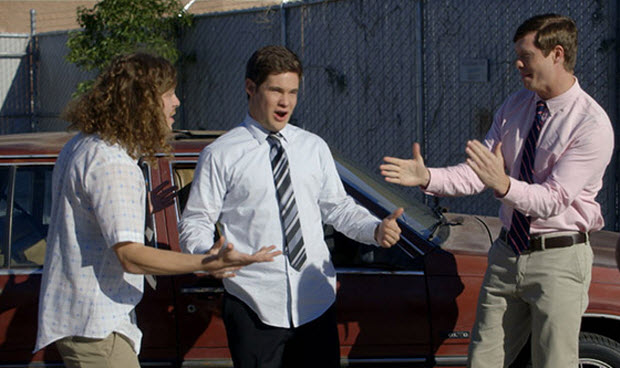 by Blaise Hopkins
This season Workaholics has done a great job of basing their episode plots around popular topics of modern culture; EDM, Greek life and even filming a documentary. Last night, the guys tackled another situation that I'm sure any gamer has found their self in before — getting constantly harassed by another online player. Yes, over the years I have been in countless situations where I've found myself in a shouting match of slander with a stranger (as I'm sure many others have as well) which is hilarious to look back on. Last night's episode, "DeputyDong," took this situation to the extreme where the guys actually got to hunt their bully down and see how he likes it when they bring the game to him.
The episode opens with Adam and Blake getting crushed in the video game called Sniper Shot Munich, by a guy whose online username is Deputy Dong. He's better at the game than them and constantly gets under their skin with his rude verbal harassment. Ders even avoids playing Sniper Shot Munich when he sees DD online because he's that vicious and there's nothing the guys can do. But.. when they are at work the next day, Blake realizes that one of the people he calls for TAC is DD and they get his address, which I assume is probably illegal to copy. Either way, they get the address and decide to give DD a rude awakening by showing up to his house, black ops style, and deleting his online game account.
After a short ride of only 9 hours to Arizona… the guys show up at DD's house decked out in black ops gear. They sync up their walkie-talkies and split up; Adam and Ders head straight to the front door, slamming and yelling to get in while Blake sneaks around the back. Adam ends up grabbing the dry ice and trying to break it with his forehead but is unaware that it sticks to your skin. Ders throws his hot coffee on Adams face to get him unstuck; which works, but the entire combination of extreme hot and cold pain sends him into a screaming fit that draws a man-boy out of the house to see what's going on. After Adam nearly blows their cover by asking if it's him, they notice a police car rolling down the street and scramble to hide. It turns out that the officer is the kid's father and also DD (Kevin Heffernan); he just returned from his squad partner's funeral and half the department is coming over for drinks — but Blake's already inside.
The son, Nate, discovers Blake hiding in his room but decides to help them delete the account because he can't stand how much his father plays video games. Adam and Ders pretend to have known the fallen cop Ramirez and talk their way into the gathering to create a distraction for Blake and Nate to sneak into the mancave and delete the account. In their best efforts to stall, Adam and Ders sing some fake Irish police songs to keep everyone from heading into the mancave but it doesn't work and DD ends up catching Blake and Nate. Adam makes a wild decision to claim that Blake is actually the guy who killed Ramirez and they've been hunting him down this whole time so they can, "take him to HQ for some waterboarding." They perform a completely wrong display of what waterboarding is as an excuse to douse DD's Xbox and then come clean about playing him online and that everyone is tired of his harassment, even Nate. Blake brings up the problem between the father and son but completely different from what the guys thought. In the end, the cops make themselves feel better and honor Ramirez by shooting a barrage of pepper spray into the guy's eyes. They head back home all swollen-eyed and resort to playing a less intense tennis game; yet, even in this game, are once again harassed by somebody else better than them.
I thought that this was another good episode of Workaholics and kept the season going strong once again. I thought some moments could have been a little less stereotypical for the characters; such as Adam's whole thing with the dry ice just seemed like too much. We get it, he's very stupid. Otherwise, I thought the episode was filled with funny moments watching them try to stand up to a bully that they can never get rid of — the online gamer.
My Moments of the Night:
– Blake's fake voice when talking with DD from work was really unexpected and had me laughing pretty hard.
– Blake really doesn't like people touching his hair, but I can't blame him.
– My favorite moment of the entire episode was seeing that Nate and Adam have the same body hair style and have a quick moment.
– Ramirez actually died of a heart attack.
What did everyone think of last night's Workaholics episode? Let me know why you did or didn't like it!
[Photo via Comedy Central]
Tell us what's wrong with this post? How could we improve it? :)
Let us improve this post!