If you spent any time watching ABC the last couple weeks, whether it be Ohio State versus Oregon in the Rose Bowl (damn Buckeyes!) or The Bachelor: On the Wings of Love (man, there's a whole lotta crazy eyes going on already this season!), you undoubtedly saw a number of ads promoting, not only the return of Lost(!), but also ABC's new show, The Deep End
(premiering January 21 @ 8:00p EST). As you may have gathered from the commercials, The Deep End follows the lives of five new first-year associates at a high-powered, white shoe law firm in Los Angeles. Now, I am a third-year attorney, so my immediate reaction was that the last thing I want to do is spend the little time I have not at work, watching a show about a law firm (this is what derailed my ticket on the The Good Wife train, although I enjoyed the pilot).
Then, I noticed that it appears these first-years are going to have plot lines that involve them directly consulting clients and handling their own cases. I know all too well what a first-year associate's life is like — you do not meet with clients. You are not assigned cases to handle by yourself (to do so would, literally, be malpractice on the part of the firm). Especially at a huge firm like the one in the show appears to be. There are hundreds of lawyers at these firms, all with seniority over these new associates. Maybe, maybe, if they were at a small firm (like ten attorneys), they would have some more client interaction, but when they first join, not even then. First-year associates spend their time doing research, writing case memos and making little black redaction boxes on their clients' documents. Now, this would obviously not make for a great show, so the writers have bypassed this reality. Fine, I have no problem with that — it's just another strike against the show for me.
Next, I saw that some of the first-year associates themselves, as they have been presented thus far, are just too incredulous to be believed. There is no way a huge L.A. firm is going to hire a graduate like Addy, "The Pushover" (ugh), from Case Western Reserve Law School in Cleveland, Ohio. Law firms hire regionally, unless you attended Columbia, Harvard or Yale. Liam, the Oxford law grad? He wouldn't be allowed to practice in California unless he had a degree from an accredited U.S. law school as well. Maybe he does. Maybe when they flesh out the characters, these issues will be cleared up. Regardless, strike two.
They even threw in two gratuitous "nudity" scenes (one of the British guy finishing with a secretary. Another with the two female first-years in their bras.). Hey, that stuff is great during the show, but to have to rely on it in the promos doesn't speak well for the depth (no pun intended) of the program. Strike three, ABC. Sorry.
Then, something happened….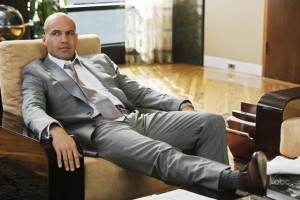 I noticed the actors that were on the show. Mechad Brooks, who was excellent as Eggs on True Blood, plays Malcolm "The Alpha Dog" who was "hired outside the firm's traditional process" (and believe you me, firm hiring processes are very traditional and rigid). Tina Majorino, so fantastic as Sarah's sapphic friend Heather on Big Love, plays the aforementioned Addy. Norbert Leo Butz, Tony-award winner for his turn as Freddy in Dirty Rotten Scoundrelson Broadway and the original Fiyero in Wicked (saw him in both, he was incredible), plays Rowdy(!), their mentor. And Billy Freakin' Zane! Damn you, The Deep End. You win. You've sucked me in.
So, I've decided that the strength of the actors involved has given me enough reason to overlook the negatives I see and give The Deep End a shot. Hopefully, the writing will be witty, the plots intriguing, and the performances sound enough that I will want to spend even more time in a law firm then I already do. If anything, it may serve as a nice seat warmer until FlashForward returns to the time slot in March. We'll have to wait and see.
Anyone else have any thoughts on the ads? Interested in watching the show? Anyone have a law firm experience similar to the one it appears The Deep End will be depicting (am I the only unlucky one)?
If you missed the promos for The Deep End, be sure to check them out here and here.