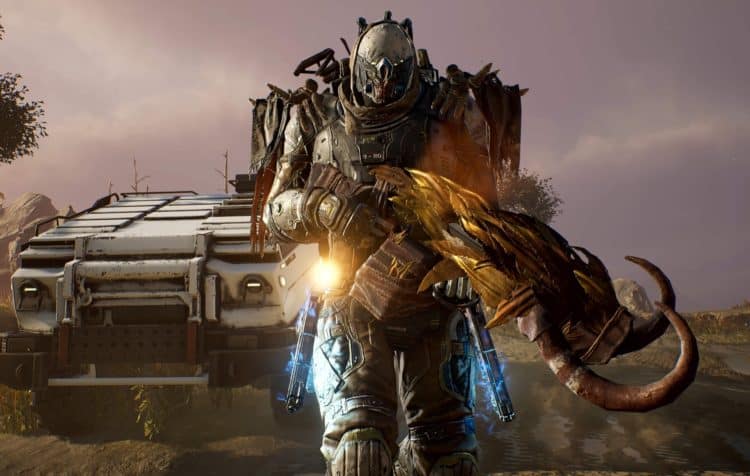 Outriders is an upcoming looter-shooter coming from Bulletstorm developer, People Can Fly. The game was supposed to release much sooner, but was unfortunately delayed until April 1, 2021. However, this delay has now provided us with access to a full demo of the game beginning on February 25. This isn't just a beta or a limited demo – it's a full-on, permanent demo with several hours of gameplay and no time limit to play. With access to the demo being available so soon, the official Outriders YouTube channel has posted a video detailing the reasons you should play the Outriders demo. So why exactly does People Can Fly think that you should you participate in this demo? Let's take a look to see what you can expect from the Outriders demo!
10. Find Your Class
The Outriders demo will include all four classes in the game including Technomancer (Long Range, Support, Gadgets), Pyromancer (Medium Range, Conjurer, Fire), Trickster (Close Range, Hit & Run, Spacetime), and Devastator (Close Range, Tank, Stand Your Ground), so that you're able to experiment with all of the classes the game has to offer and decide which Outrider path you want to follow. Personally, I think I'm going to go Pyromancer or Devastator for my first play-through – I do love a good fire-based class and also huge DPS.
9. Multiplayer
The Outriders demo includes full multiplayer including matchmaking as well as the ability to join or invite friends to help you on your journey. You can invite your friends from the Lobby, but also from the Game Menu or set your party to Friends Only or Open to allow them to join without an invite for up to 3 players. You are able to join a lobby with people that may be ahead of you in the story, however, the game will warn you if this is the case and will allow you to not join them if you are worried about spoilers. I think this is a great system and one that many players will come to appreciate very much.
8. Cross Play
The Outriders demo includes full crossplay between all systems including Xbox Series X|S, Xbox One, PlayStation 5, PlayStation 4, and PC, however, the demo does not support cross play on Stadia or Epic Games, so if you want to play with your PC friends from a different console, they'll need to download the demo on Steam. Epic and Stadia cross play will be available on launch.
7. Transfer Your Progress
The progress you make in the Outriders demo will transfer completely to the full game should you decide to purchase the game's full version! This means that all of your characters (or your single, super-leveled character) will be accessible to you across the demo and the game. Unfortunately, there is no inter-console cross save as that is limited to specific consoles themselves (Xbox One can save progress on Series X|S, PlayStation 4 can save progress on PlayStation 5, but not PC, etc.)
6. An Epic Journey
The Outriders demo takes you through the entire opening chapter of Outriders that introduces the entire story of the game, so you aren't limited to 3-4 missions in the middle of the game that leaves you completely in the dark for what else to expect from the rest of the game.
5. Side Quests
The Outriders demo is loaded with side quests that are sure to keep you occupied all the way until the game's full release on April 1, 2021. These side quests will adapt loot and enemy levels to your current character level, so you can continue to replay them over and over again for a chance to grab some of that sweet god-roll gear multiple times. However, not all of these side quests will immediately be unlocked as some have certain prerequisites that you must fulfill to access them.
4. Weapons
People Can Fly are the developers of classics such as Bulletstorm, Gears of War Judgment, and Painkiller, so gunplay is woven into their DNA and we should expect nothing less than some fantastic weapons from Outriders. You can also upgrade weapons using mods that require you to mine ore deposits within the game, these can be found in the Outriders demo, so be sure to stock up for the game's full release while you have the chance!
3. Powers
The powers and abilities in Outriders look insane to say the least. Your powers come from an anomaly that have turned you into a species known as "The Altered." There are so many abilities ranging from teleportation and time-space warping to stabbing a rock through an enemy's chest. I'm definitely looking forward to seeing what these powers have to offer.
2. Create Your Outrider
Outriders features a fully customizable character creator – nothing that a typical RPG doesn't already have, but what's so special about the Outriders character creator is that it allows you to customize your character's appearance on the fly at any Camp you can find. This means that you're not limited to a single look and can evolve your character's appearance as they evolve in the game.
1. Play Aggressive
One of the key elements of Outriders is that you will need to kill enemies in order to heal yourself, meaning you can't rely on passive health-regen or item pickups to get you a boost back to full health by hiding behind a rock or a wall. You'll need to get in the fight and play aggressive to come out on top. I love this as I am a very aggressive Destiny player, so this fits my playstyle entirely.
What do you think about the Outriders demo? I can't wait to run through each and every class until there's absolutely nothing left to do and then wait patiently for the full release of the game.