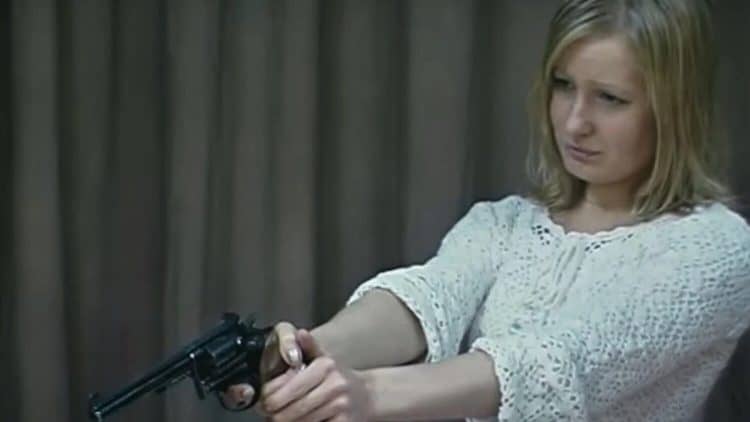 Twisted, out there, and definitely disturbing only begin to describe the occurrence that took place in Knutby Village back in the early 2000s, especially since the occurrence feels so convoluted and hard to decipher in the trailer. But anything that tends to involve murder, sex, and religion tends to get complicated very quickly and has a huge chance to turn deadly if things are allowed to continue. That appears to be the case here since everything that was just mentioned was in place and was allowed to play out in a grisly series of events that is bound to shock quite a few people but might actually pass by others as another atrocity in a long line of them that continue to roll out over the course of human history. That sounds a bit cynical, doesn't it? The sad fact is that cynicism is a shield that many throw up on occasion simply because to do anything else, to react in an honest way to tragedy, especially tragedy that doesn't touch the lives of any but those involved in the incident would leave many people so emotionally scarred that cynicism becomes more practical than cowardly after a while in order to spare the sensibilities of the masses. Documentaries such as this are made for several reasons, but one of them is without a doubt to show the scope of human tragedy and how certain situations can go from bad to so much worse once people start digging further into the truth behind them.
The lies, the murders, and the overall confusion that was caused in Knutby Village will likely be something that many people will find to be a little daunting at first, and will probably doubt since it sounds a little too fantastical to be real. A simple Google search is all that's needed to see that the documentary has already awakened interest in the matter yet again, though whether this will be beneficial for the location or not is hard to say since some secrets are those that people would rather see buried than unveiled for the sake of entertainment. But the reality of it is impossible to get away from since in the early 2000s this did rock quite a few people since it would appear that this kind of happening is rare in this part of the world. For Americans that may or may not sound hard to believe, especially considering that, sadly, murder and violent crime is a commonplace thing for the USA. Hearing about in other parts of the world that rarely make the news for such occurrences is definitely a bit of a surprise, but it's also something that might inspire people to read more about it.
In comparison to the news that is heard across the breadth of the USA, this documentary is actually quite tame, but it is still something that managed to gain a great deal of attention since many people that claim to have killed another after being instructed by God through text message are bound to receive a healthy bit of attention. The glaring downside of this however is that one has to go into why the murder happened, how someone thought they could pull it off, and of course, the mental state of the person that actually did the deed. Thinking that anyone out there is susceptible enough to such suggestions is a bit frightening, but it's just as unnerving to think that there's someone out there who would take advantage of another person in this manner. It does happen far too often in some cases, but it's still hard to figure out each time since rational, thinking human beings can't begin to understand the thought processes that are going on in the minds of those that plot to kill others for various reasons. Murder does have its well-documented reasons and motivations, but the thoughts that come about, and how they form, are still a bit of a mystery at times. Psychologists would likely give a long-winded lesson on the hows and whys of murder and what goes into a person's line of reasoning when such thoughts emerge, but the idea of ending the life of another human being in a premeditated fashion is still tough to fathom sometimes.
In terms of learning something new, it's likely that many people are going to tune in either because they happen to enjoy documentaries or because they want to see something other than the usual American drama story, or both. The documentary looks and sounds as though it's going to be a fairly gritty experience, but it will no doubt shed a light on the occurrence in a manner that will possibly be informative to a lot of people. Whether that kind of attention is what Knutby wants or not feels like it's kind of irrelevant.