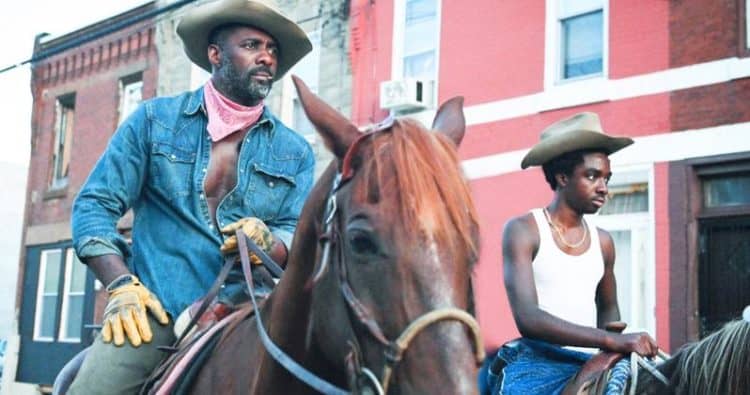 There are a couple of statements in the trailer to Concrete Cowboy that people might actually want to check before they get upset or feel any way about it since in the scene around the fire pit it's stated that half of the cowboys in history were black and that the Lone Ranger was black. Now, the actual number, and it's been checked throughout historical records, of cowboys that were African-American, or POC, it's hard to know what's 'okay' to say these days, was in fact about 25 percent, which is a far cry from half, but is still impressive since a lot of POC's were ranch hands that became cowboys and weren't that well-known or documented in the old days. But as far as the Lone Ranger being black, Bass Reeves was a lawman and a cowboy that is said to have inspired the legend of the Lone Ranger that came nearly a century after his time. So that part is actually correct since calling Reeves the Lone Ranger is close enough to the mark to call it good. As it pertains to the movie, this is a mark of pride that hasn't really been explored that deeply since for one reason or another we haven't seen a lot of POC's that would mark themselves as cowboys or horse enthusiasts in the modern era. But if anyone is paying attention there are plenty of POC's that do enjoy riding and the various activities that can be enjoyed on horseback, and this Netflix feature is one of those that seek to highlight this type of life.
The lifestyle of those that are into horses is different just so everyone knows this, it's something that you get into because you enjoy it, or don't get into at all since the fact is that horses are a lot of work in more than one way and they tend to be difficult to take care of in every way possible. Seeing a horse being kept indoors isn't exactly the worst thing that anyone might take note of, but it's something that's a little bit confusing since it kind of begs the question of 'why?'. The answer is pretty simple since it's the lifestyle that Idris Elba's character is clinging to, and one of the big issues in the movie is that it would appear that someone is trying to come in and disrupt the lives of those in the neighborhood. The other issue of course has to do with the rift between father and son, as Caleb McLaughlin will be taking on the role of Cole, a young man that's been sent to live with his father obviously, or else has nowhere else to go. The movie is supposed to be headed to Netflix on April 2nd, and after looking at the trailer it might be something that's worth watching since it's bound to tell a story that will be intriguing to watch.
There's not a lot of doubt that this movie will be another attempt to raise the social-consciousness of viewers as this has been happening for a while now and in some instances has been positive and easy to follow, while in others it's come off as a lecture and is less than desired by many viewers. Idris Elba and Caleb McLaughlin have both been celebrated actors and have both come out with several movies and appearances that have made it clear that they're talented and fully capable of telling a great story and being a part of something bigger. This story might sound a bit odd to some folks but there are communities that rally together in this manner and a horse-riding community isn't that too far out of the norm to be honest since it's something that a lot of people tend to be into since horses are a big part of American history and the historical role of POC's when it comes to being a cowboy is something that is quite interesting to learn about. In terms of learning however it's often better to tell a tale than to give a lecture on why it's important to learn about such things, and from the way the trailer rolls out it does feel that this will be a great father and son story that will draw a lot of people in.
Netflix is continuing to lead the pack as far as a lot of people are concerned when it comes to streaming but it does appear to falter every now and then as other sites are building their base even stronger and pushing to try and top the streaming giant. With Concrete Cowboy it does feel that Netflix will have scored a solid story that will keep people coming back, but it's fair to say that more like this will be needed in the months to come.