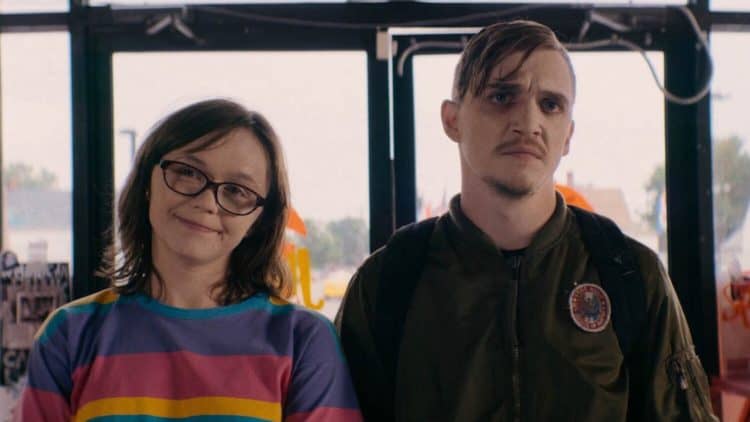 The first look at Dinner in America might make some people feel a bit anxious since there does look to be subject material that's bound to make some folks uncomfortable, and then make others laugh uncontrollably since a good dark comedy is always appreciated by plenty of people since it tends to come out of nowhere at times and slap the senses without any warning. That's what this movie feels like it's going to do even after watching the trailer since after all the odd things there are to see in just a few minutes it does feel as though the entire movie is going to take the audience on an angst-ridden, not so thrilling ride through teenage anxiety that's bound to get a bit violent and even disturbing on a few levels. The story of a punk rocker named Simon, played by Kyle Gallner, and an oddball teen by the name of Patty, played by Emily Skeggs, appears to be a long list of bad behavior, strangely funny moments, and even worse behavior as these two characters get together after it's discovered that Patty happens to like the band that Simon plays for and is, well, a bit eccentric in her ways. Simon on the other hand is simply destructive and violent, but if we get to find out why that might be some kind of miracle since from the trailer it feels as though the goal is to experience a more violent and twisted version of something akin to Napoleon Dynamite, with less boredom and more shock and awe delivered in a way that only teens can these days. That might not be entirely right, but given that this is focusing on younger folks it's accurate to say that they're bound to be the most shocking individuals in the story.
It's not that strange really to think that this movie is going to be a bit of commentary on what it's like to be a teenager today, even if it won't be the whole story since let's be honest here, the teenage experience as it stands now is a lot different than it was even a decade ago, or two decades, and it's going to keep changing . Like every movie that depicts younger people we're getting another slice of the overall experience that we might not get to see all the time, dramatized and done up as a dark comedy of course, but still packing a wallop that a lot of people have come to enjoy and some will be appalled at. With movies like this, it's hard to know where to stand at times since there is a sense of urgency and mania to the trailer that feels as though it's bound to slow down during the movie, but all the same, the anxious, twitchy, angry feel of it comes through in a very big way. This is the type of movie that some audience members will be snorting at simply because it is that funny, in a dark sort of way, while others might actually turn up their nose since it's not their style. It would be worth wagering bets to see which theaters do the best with and which ones do the worst. It might also be worth wagering a bet to see if anyone walks out and how many, but that might not be quite as lucrative.
The two characters in the movie definitely feel as though they're going to be able to drive the story in their own ways since Simon appears to be just what he looks like, a thug and a punk rocker that has serious impulse control problems and does what he feels like at any given moment. Patty kind of strikes a person as someone who's socially awkward doesn't handle rejection well doesn't like being told 'no', and is more of a follower than a leader. Together the two characters look and sound like a mess waiting to happen in a number of ways, but it also feels as though they might feed off of each other when it comes to introducing their brand of crazy to the world, something that many people do on a daily basis without recognizing it. With the trailer looking like something between SLC Punk and Napoleon Dynamite and the characters sounding as though they just came out of the 90s or 2000s, this movie is already a bit of a challenge to a lot of people that might not fully understand what's going on or why, but it looks intriguing all the same since somewhere in all that chaos there's a story to be told and something to be gleaned from the idea that was created and put on camera. It's likely that this will be worth it by the time is movie done, but getting through it might be a bit rough.