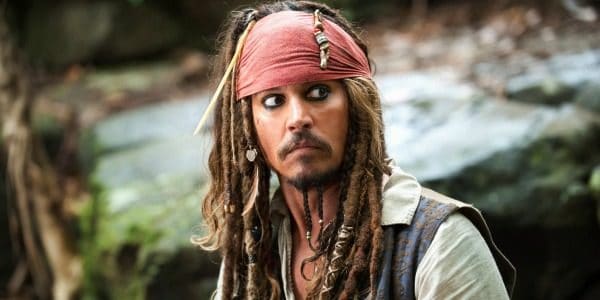 The whole pirate concept never mixed well with movies. Other than Captain Hook from Peter Pan, pirates just couldn't make bank at the box office. That all changed when Johnny Depp became Captain Jack Sparrow in the first Pirates of the Caribbean movie. As a kid, he was one of my favorite movie characters. As of now, I still adore Captain Jack, but the quality of the Pirates of the Caribbean movies took a serious dip with each subsequent sequel. The Captain Jack in Dead Men Tell No Tales didn't feel like the same Captain Jack audiences fell in love with. It honestly felt like Johnny Depp was just phoning it in just to get through it. The clever pirate who outsmarted everyone in the previous movies just wasn't the same guy in that movie. He was just a drunken buffoon that accidentally fell into success.
And what exactly does spaghetti wolves mean? Yeah, there were problems with that script, which Depp probably had problems with. Maybe that's why his performance was lackluster, but that doesn't help him for future installments. As of now, the Jack Sparrow character and the franchise as a whole has run its course. As much as I love Captain Jack, I feel like his story has been told to the fullest and showing him further would feel like shoehorning him in for fan service. But if there's no Captain Jack Sparrow, then can there be more Pirates of the Caribbean movies?
On the surface, I would say no, but it seems Disney thinks differently. Recent reports are suggesting that they intend to reboot the franchise with a completely different lead. If you're expecting Will Turner to take over, think again. Disney is looking for a new female lead to sail the pirates back to the big-screen, and their top choice is rumored to be Karen Gillan. Fans of the Marvel Cinematic Universe will know her as Nebula, while fans of the Jumanji movies will better recognize her as Ruby Roundhouse. Gillan is reportedly going to take over as the new lead for the Pirates of the Caribbean reboot playing an unknown role. Take one look at her and you can probably guess who she'll be playing. My guess is Redd, because of the red hair, but we'll see.
Now I admittedly have mixed feelings about this new direction they're apparently taking. On one hand, I would like to see more of Captain Jack Sparrow because he's just an awesome character. On the other hand, he hasn't been handled too well in the most recent pirate films and by now, it all just feels worn out. That being said, Captain Jack is still the face of the franchise. The idea of having another Pirates of the Caribbean movie without him is just absurd. If that's the case, then I'd probably just leave it be and be happy with what it has accomplished.
I do, however, like Karen Gillan and would like to see her in more big movies. Her performance as Nebula has grown on me over the years and I've come to appreciate her more as an actress. I've admittedly never watched the Jumanji movies from beginning to end, but based on what I've seen, she's capable of being a funny character. That shows me she's capable of playing different types of characters, which, in other words, means she's a talented actress.
A diverse actor like her reminds of Johnny Depp's acting abilities. Yes, some of his roles are bizarre, but he's proven that he can play all kinds of characters, from the handsome leading man to the sinister villain. This is how he landed the role of Captain Jack Sparrow, because the character embodies all kinds of qualities. At times, he can be seemingly dimwitted and self-serving, but at other times, he can be very clever and heroic. He is undoubtedly Depp's best role, but if we're going to get a female version of Captain Jack, then she needs the right actress to play her.
Karen Gillan has the acting chops to play that kind of character, but how will her character be developed? This kind of question honestly makes me think this new approach can serve the franchise well. The reason why is because of her gender. Keira Knightley was the tough female of the franchise, but she began as the typical damsel in distress. She was never really a pirate, but that didn't stop her from leading them in the third movie. It felt a bit abrupt, but being Will Turner's pretty girlfriend probably suited her better.
Karen Gillan has the opportunity to play a more convincing female pirate with a believable background. Have her keep her red hair and add some kind of accent. Give her a special kind of swagger, but not really a somewhat drunken one like Jack's, and probably leave out the strange hand gestures. When I picture her pirate character, I think of Mary Read from Assassin's Creed: Black Flag. She posed as James Kidd because she correctly assumed a band of rough male pirates wouldn't respect a woman. It was a smart move, but if you've played the game, you'll know that she could handle herself. Just remember when she threatened to "unman" Edward Kenway as she grabbed him in his twig and berries. Yeah, that's the kind of female pirates we need to see.
Whether or not Gillan plays Redd, she'll still be a woman in a world dominated by men. When it comes to pirates, she probably won't be respected, but she can earn that respect. Much like Jack Sparrow, she'll be underestimated at first sight, but when push comes to shove, she'll get her chance to prove everyone wrong. She'll show everyone how clever she really is and doesn't have to be humble about it either, just like Captain Jack. In the beginning, she can disguise herself as a man, but if someone discovers what she is and threatens to reveal her, she won't beg. Instead, she'll threaten to "unman" them, similar to Mary Read. Now that's a cool female pirate; one that appears defenseless, but can make big men fear her.
Can she run into Captain Jack Sparrow? I would love for Johnny Depp to return to the franchise, but let's face it, it's time to show new faces. If you want to rejuvenate a worn out franchise, add some new flavor to it. Casting Karen Gillan as the new lead can add a much-needed new take on the franchise. If it can reintroduce Captain Jack Sparrow in a better fashion, then I'd say go for it.