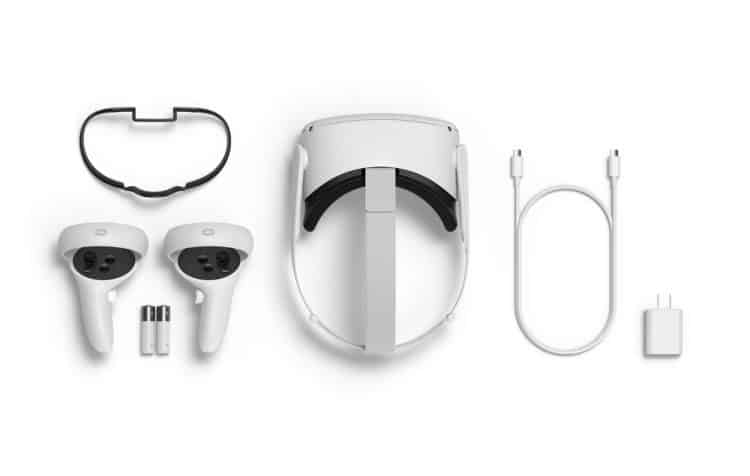 The Quest 2 is the latest innovation in virtual reality technology coming from the now Facebook-owned virtual reality company "Oculus." The second iteration of the Quest series has been designed to be the greatest beginner experience for players that want to dip their toes into the virtual reality scene. Alongside being a fantastic beginner experience, the Oculus Quest 2 is by far the most powerful and most portable virtual reality headset on the market right now, but should you buy it? What makes the Quest 2 so much better than the rest of the competition in the virtual reality market? Is the Oculus Quest 2 really the best option for virtual reality, or is it all bark and no bite? Find out what we think of the Oculus Quest 2!
Price
The biggest thing when it comes to getting into virtual reality is the price. There are plenty of virtual reality options out there, but quite a few of them are upwards of $1000 and some can even get more expensive, like the Pimax 8K X VR headset which clocks in at about $1300. Quite a hefty price for a headset. Luckily, if you're looking to get into virtual reality the Oculus Quest 2 starts at just $299. This is a fantastic price for what you get, especially considering the original Oculus Rift was $399, it's great to finally see a decrease in cost with an increase in innovation, rather than seeing an over-inflated market price like most of us are typically used to seeing. The base $299 model of the Oculus Quest 2 comes with 64GB of onboard storage, but if you really feel the need, you can up the storage to 128GB for $399. Most virtual reality games are fairly small with even the biggest games only being around the 20-25GB range (as of now, I'm sure they'll get bigger), so unless you're planning on stocking up on every game you can buy, there isn't the biggest need to spend the extra $100 for the additional storage, especially when there's a few accessories that you're going to need to purchase as well, in order to optimize your experience with the Quest 2.
Performance
Now we've gotta talk about the performance output of the Quest 2. This is a standalone headset which means that a VR-Ready PC isn't required in order to use the Quest 2, because it runs on its own power. I've found that the tracking on the headset as well as the power output is actually pretty solid if you want to use it on its own, without any strings attached, however, you can use it with a PC via a USB-C link cable if you wanted to. I tend to use my Quest 2 in tandem with my PC, because most of my virtual reality games are on Steam and I don't want to re-buy them all just to play them wirelessly. There's also the Virtual Desktop option that utilizes a Wi-Fi connection to stream your PC games directly onto your Quest 2, this is another great option if you want to play your Steam VR games wirelessly, but you're definitely going to need a strong internet connection, preferably a wired connection directly to your router, or else your performance will suffer greatly. In terms of audio performance, the Oculus Quest 2 comes with some pretty basic onboard speakers as well as some audio jacks on each side of the headset if you wanted to insert your own headphones. Honestly, I haven't had any issues using the headset speakers, but if you're more of an audiophile, you may not be satisfied and I would suggest using your own.
Portability
Perhaps the biggest marketing highlight for the Oculus Quest 2 is the portability factor. This headset is portable, for sure, but that doesn't mean that it's compact. If you're looking to take this thing traveling on an airplane trip, you're probably gonna have a hard time trying to fit this in your carry on bag (you also may get some weird looks from TSA). If you're just looking to throw it in the car, then you'll have no problems. However, you may want to grab yourself a carrying case in order to properly transport it without potentially damaging it, and quite honestly, it's just handy to have.
Comfort
Chances are if you're thinking about picking up a virtual reality headset, or if you've just recently picked yourself up a headset, you're probably going to be spending a lot of time using the headset, which means you're going to want to have a comfortable experience. Right out of the box, the Oculus Quest 2 comes with a basic head-strap and face cover, but you're going to want to immediately replace these. I recommend the Oculus Elite Strap to replace the default headstrap, and any cushioned replacement face cover to replace the stock cover on the Quest 2. The face cover that comes stock on the Quest 2 is just the worst, I can't spend more than 5 minutes in the headset before it starts to irritate my face and get very warm and scratchy. If you're going to make the investment into virtual reality, it's definitely worth it to make sure you've got the most comfortable experience that you can have.
Overall, the Oculus Quest 2 is a fantastic and portable headset that is well worth the investment. Just…make sure you upgrade to the Elite Strap and get a new face cover.
Tell us what's wrong with this post? How could we improve it? :)
Let us improve this post!