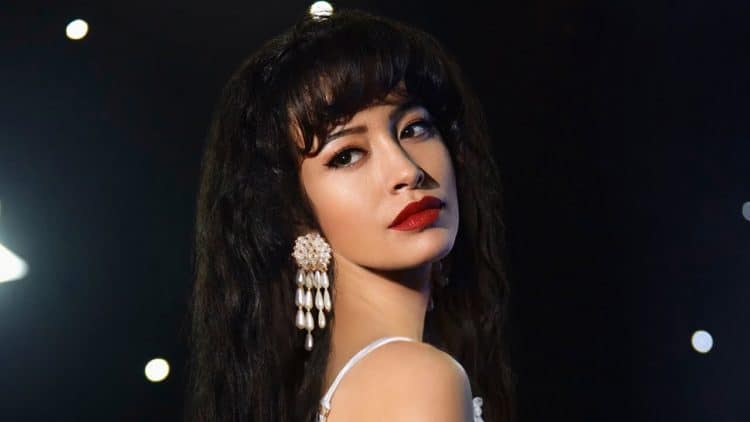 This sounds like a definite 'oopsie' move that might have been made on the part of Selena's father and sister, who apparently signed a deal with producer Moctesuma Esparza, who was responsible for the movie based on the famous singer back in 1997 starring Jennifer Lopez, that stated that he would get the first crack at making any other movies or shows with her as the main subject. One would think that Netflix, who is bringing the Selena story to life, would have checked thoroughly to see if there were any prior deals in place that might have been able to muck up their deal, but if things are being described accurately, and there's usually something that's not being revealed, then it might be that Abraham and Suzette Quintanilla might be in a spot of trouble. Esparza is going after Netflix as well since it does feel as though the streaming giant should have been capable of finding out about this agreement if they were willing to go full steam ahead with Selena's story. Perhaps as things continue to progress we'll hear more about this story and figure out just who's in the right and who isn't telling the entire story, since with stories like this there's usually something we're not hearing and that won't come out until the case is taken a little further.
But in an effort to try and see what Esparza is getting at, if Abraham did in fact agree to allow Esparza the rights to any and all expressions that would feature his daughter, and it was drawn up with a legally-binding agreement, then Abraham might be in a little trouble. But then one has to wonder at the duration of this agreement and what special stipulations might have been added in, if any. There are just too many things to consider to start talking about who's in the right and who's in the wrong, especially since such a deal that Esparza is talking about feels like something that only favors him unless he was willing to continue to push the legend of Selena throughout the years. It's easy to say that the movie back in the 90s was something that people enjoyed and loved since Selena was a young woman that took the world by storm with her charm and style of music, and it was more than obvious that she had a lot left to offer, but her untimely death hit the world hard enough that it likely took time to recover. But if Esparza and Abraham had a deal, perhaps there are more parts to this deal that haven't been made clear yet. It does feel entirely unlikely that, in the face of a pending lawsuit such as this, that Netflix would throw caution to the wind and start developing something that they had no legal right to.
Another problem here is that Netflix hasn't made the best decisions in the recent past, so their decision-making capability is bound to be brought into this case as well since if anyone is wondering just what I'm talking about, think of how Netflix stood up for the movie Cuties when it started to enrage a good portion of their subscribers. There was no need to call for cancel culture to step in and rid the streaming giant of the movie, but it was controversial to the point that it simply felt like it came out at the wrong time, and could have been held onto for a while, or possibly edited in a manner that might have made it a bit more acceptable. The point here is that Netflix doesn't have a perfect track record of being careful with their content, which could work in Esparza's favor if he's completely on the level. There are so many legal matters to deal with in the movies and TV that it's difficult to see how anything ever gets done and how anyone could possibly keep it all straight. That's not letting Abraham off the hook, not even close, but it does make a person wonder just how anyone could possibly remember every little thing when it comes to who they have a deal with and how the deal is structured. This is usually why documentation of said agreements is absolutely vital, and why 'forgetting' is not a good idea.
Esparza is asking for a hefty amount at this time and it's yet to be seen what's going to happen, but the understanding by a lot of folks is that this could look fairly bad for Netflix and for Selena's family if Esparza is found to be in the right. We'll have to see what happens, but whether or not it will affect the series is hard to say at this moment. Hopefully an agreement will be reached at some point.