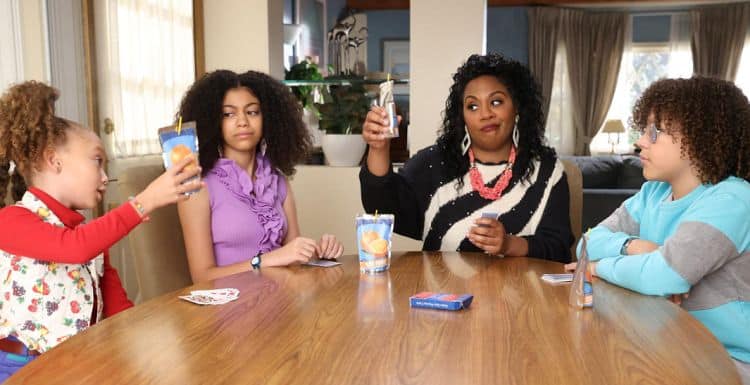 When the sitcom Black-ish debuted in 2014, it didn't take long for the show to become a huge hit. At a time where all-Black sitcoms were virtually nonexistent, Black-ish has ushered in a new generation of diversity in the entertainment industry. Plus, the show's starstudded cast meant that it had no trouble attracting a wide range of viewers. The show became so successful that it eventually resulted in two spin-offs as well as two more than are currently in talks. One of those spin-offs, Mixed-ish, debuted in 2019. The series followed Tracee Ellis-Ross' Black-ish character, Rainbow Johnson, and her life as a young bi-racial girl in suburban America.
While many people naturally assumed that Mixed-ish would go on to be just as successful as Black-ish, it appears that that hasn't been the case. It was recently announced that Mixed-ish would be canceled after just two seasons which has lead many people to ask why. If you're one of the many who wants to know why Mixed-ish is over, keep reading to find out why the series is done after just two seasons.
Mixed-ish Isn't The Only Kenya Barris Show That's Ending
In addition to Mixed-ish being canceled, it's also been announced that the flagship series, Black-ish, will be ending after its eight season. Unlike Mixed-ish, however, Black-ish was not canceled. The decision to end the show came from its creator Kenya Barris who felt that it was simply time to bring things to a close.
In a statement issued by Kenya Barris on Twitter, he said, "In this day and age it is rare to get to decide when your show should come to an end, and we are grateful along with ABC to be able to make this final season exactly what we'd hoped for—– and to do it with the entire and AMAZINGLY STELLAR cast coming back to close this chapter out with us the right way!" The 8th and final season of Black-ish will likely air in early 2022.
Saying goodbye to the Johnson family won't be easy, but fans can rest assured that they haven't seen the last of them yet. Grown-ish, which airs on Freeform, is still going strong and has already been renewed for a fourth season.
The Reason Mixed-ish Wasn't Renewed
Sadly for those who are looking for an official reason as to why Mixed-ish was canceled, the network hasn't really given a specific one. That being said, It's no secret that everything in the entertainment industry is a numbers game. When it comes to TV, ratings are the biggest determining factor in whether or not a show will last. Unfortunaetly for Mixed-ish, the show's ratings probably haven't been what the network was hoping for. Although the show got off to a strong start in its first season, ratings started to decline in the second season.
In a statement from ABC discussing the decision to cancel Mixed-ish and some other shows, the network's president, Craig Erwich, said, "I can say that just because we are not ordering new seasons does not take anything away from the impact that these shows had creatively or how many fans they have on ABC. These are difficult business decisions but we are really proud of the runs that all of these shows had."
While some agree that Mixed-ish wasn't the best show and should be canceled, others are a upset and felt the decision was a little premature. After all, everything has been out of wack due to the COVID-19 pandemic, and it's been a huge adjustment for viewers and people within the industry. There's a chance that the ratings were going to recover. Unfortunately, however, the show will never get that chance.
Is There Any Hope For Mixed-ish?
Over the last couple of years, it has become somewhat common for canceled shows to be shopped around to other networks and/or streaming services to see if anyone else would be interested in picking them up. Unfortunately, that doesn't appear to be a possibility for Mixed-ish. The good news is that Kenya Barris has some other Black-ish spin-offs in the works and he also recently signed a deal with Netflix. Basically, there will be no shortage of new content from him. That also means that Kenya Barris' plate is probably way too full to worry about trying to bring a dead show back to life.
Even though Mixed-ish's time on the air was relatively short, I think it's safe to say that it's one of the few shows that won't soon be forgotten.