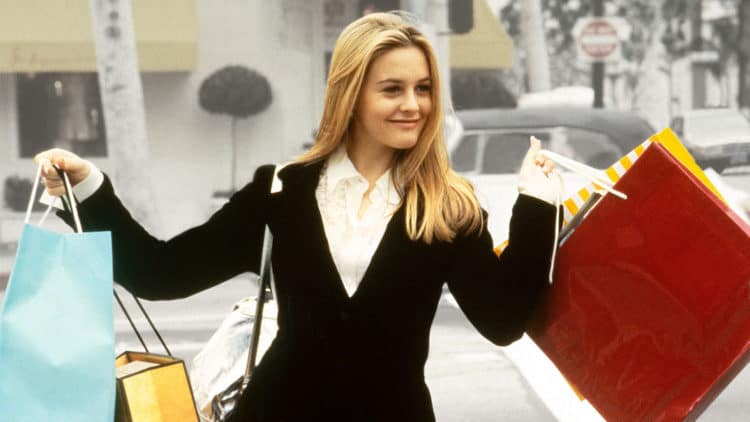 If you were born in the 90's, your childhood or teenage experience would not have been complete if you did not tune into the coming-of-age comedy, Clueless. The film is considered to be one of the best teen films of all time, and has become a cult classic. Here are ten reasons why Clueless remains to be a timeless movie:
10. It was adapted from another timeless classic
It may come as a surprise to many that the film is loosely based on Jane Austen's novel, Emma, which was about youth and the romantic mishaps that come with it. This is similar with how the famed romantic comedy, Bridget Jones's Diary, is a reinterpretation of another Jane Austen masterpiece, Pride and Prejudice. The parallels between Emma and the iconic lead character in Clueless, Cher Horowitz, portrayed by Alicia Silverstone (Miss Match), are hard to ignore. Both characters are wealthy children, who live are indulged by their father after losing their mother at a young age. Both are also well-regarded by their peers and community. The characters seem to be living in opulent and worry-free lives, except for a major weakness, which comes in the form of being easily manipulated by others. The similarities are striking, and they are nothing but amusing to unravel.
9. The iconic fashion statements
The entire film was a fashion extravaganza on its own. Who could ever forget the outfits that made the movie? The most famous one being Cher's yellow plaid mini skirt and blazer set that is still being recreated up to this day. The knee-high socks and quirky hats that Cher's best friend, Dionne Davenport, portrayed by Stacey Dash (Renaissance Man), wore are also still on point. There were so many great looks in the film, it is almost impossible to pinpoint a favorite one. The film's costume designer, Mona May, took her job to heart and created something that was larger than life. The iconic fashion statements have been passed on from one generation to another, and will continue to stand the test of time.
8. The film was ahead of its time
There must have been millions of teenage girls around the world who wished to have Cher's computer simulation that was able to mix, match, and pick out her outfit of the day. It's not the type of technological advancement you would expect to witness in a 90's flick. It's been more than two decades since the film premiered, but people are still talking about it. Cher's virtual wardrobe has now turned into reality. This was just one of the little details in the movie that added to its overall appeal and charm.
7. Re-watching the film feels like taking a trip down memory lane
Life was much simpler back in the 90s. It was still the early days of pagers and mobile phones, and social media was still non-existent. Spending quality time, without the distraction of numerous gadgets, was still possible. Re-watching old films is like traveling back in time. It allows us to temporarily forget our everyday worries, and to just enjoy the ride. The distraction may not take long, but it's something nice to go back to from time to time.
6. The cast members are composed of our 90's favorites
The film made breakout stars of out of its young cast members. Silverstone instantly became a household name afterwards, together with her other co-actors, such as Brittany Murphy (8 Mile) as the naïve new girl, Tai, and Paul Rudd (Ant-Man) as Josh, Cher's dreamy stepbrother. It was a film that defined a generation, and one that embodied the 90's scene the best. Its actors achieved a new level of success, and went on to star in many other memorable films that played a huge part in our youth.
5. The memorable lines and snappy one-liners
There are too many good lines from the film that are still ingrained in our brains. It was a combination of the coolest 90's slang, and the wittiest comebacks. Cher is most well-known for her iconic catchphrase, "Ugh, as if!". The film was filled with 90's references, such as Twin Peaks, the Baldwin brothers, and Ren and Stimpy. It was nostalgia at its finest, and more reasons to re-visit the film. We're totally buggin' over this blast from the past!
4. Father-daughter relationships are our weakness
The film focused on the essential relationships in Cher's life, and one of those was with her father, Mel Horowitz, a renowned litigator, portrayed by Dan Hedaya (Dick). His workaholic nature was balanced out by his soft side for Cher and his ex-stepson, Josh. Despite being divorced from Josh's mother, eh still treats him like his own son. One of his most touching lines in the film goes, "You divorce wives, not children". He is insanely protective of Cher, and serves as her strong and stable foundation.
3. Hoes over bros
Friendship was such a strong point in the film. This was embodied in Cher and Dionne, who were basically friendship goals. The film promoted girl power, and sticking it out with your girlfriends through thick and thin. Cher and Dionne also put their popularity to good us when they focused their attention on Tai, the new girl in school. This makeover project was one of the turning points in the film. There's nothing better than rollin' with your homies.
2. The romantic angles were the good kind of cheesy
The love angle in the movie was all sorts of sappy and sentimental, but in a good way. Cher and Josh started out as bickering step-siblings, and ended up to be each other's soulmates. It was an unexpected relationship that was deeply rooted on friendship. The characters' realizations towards the end of the film were heartwarming, and something straight out of a 90's chick flick. They defied ex-sibling awkwardness and did not their age gap get in the way. I guess it's true when they say that if you know, you know.
1. The life lessons that still hold true up to this day
The film's plotline may have centered on the lives of the rich kids living in Beverly Hills, but the characters were far from being self-centered and selfish. Cher, for one, was portrayed to be kind-hearted to a fault. She was easily trusted others, and got into tricky situations because of it. The show proved that having the upper hand in society does not mean that you could look down on others, or boss people around. Cher was used to getting what she wanted, but this did not turn her into a monster. Instead, it even made her root for underdogs, like Tai, and even forgave her when she overstepped her way, and betrayed Cher. There are some valuable life lessons to pick up from the film apart from the key fashion moments.
Tell us what's wrong with this post? How could we improve it? :)
Let us improve this post!