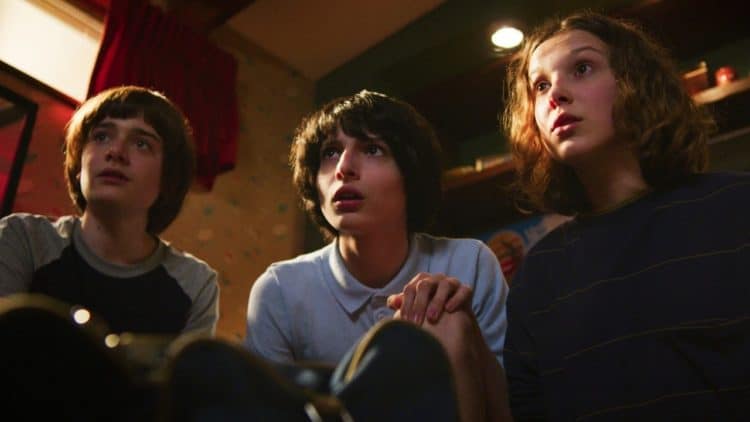 First premiering on Netflix in 2016, Stranger Things took the entertainment scene by storm. It skyrocketed to becoming one of pop culture's most talked-about shows; and for good reason. From the expansive and talented cast, to the sci-fi writing, and the visual effects; Stranger Things is well-deserving of its acclaim. But which 80's Hoosier represents your sign? Let's find out! *Beware some spoilers ahead!*
Aries – Jim Hopper
Admit it, Aries, you can be impulsive. Like Jim, you're an endless fountain of energy and tenacity; fighting until the very end. He protects the kids at all costs, even his own life; fulfilling the savior complex that most Aries tend to have. You don't always think before you act, but sometimes there's no time to think and only time for action; you thrive in these scenarios. You can't fix everything and save everyone, Aries, so be gentle with yourself in times of self-doubt.
Taurus – Steve Harrington
You're a tough cookie, Taurus. Steve shows a unique Taurus perspective, one that isn't the typical 'fade into the background supporting character'. When you allow yourself out of your shell, Taurus, you can be a vibrant and charismatic person; but you have to confront that insecurity first. Although he was first portrayed as a jealous and possessive person (which can happen with the sign of the bull), he matures into a caretaker who is able to confront his emotions. Keep the faith, Taurus, and remember that not everything has to be an argument.
Gemini – Will Byers
Gemini, you're inherently intellectual (part of your air sign nature), but can often be caught aloof or frivolous. Like Will, you're an expert communicator and socializer. This is quite literally demonstrated when he's trapped in The Upside Down and is able to send messages back to reality. You have a constant inner battle between what's morally right and what's actually right; which is part of the duality of your sign. Seek to marry your two halves, Gemini, and you'll be unstoppable.
Cancer – Mike Wheeler
Whether or not you want to admit it, Cancer, you are emotionally turbulent. You may be better than others at keeping it bottled up, but the feelings will always come out somehow. Much like Mike, you have a tendency to love not fight, but when you fight, it's an all-out brawl (part of those emotions spilling out). Mike becomes the mother hen of the group, using his house as the lair for their adventures, and making sure everyone is taken care of. You're a people pleaser by nature, Cancer, but don't forget to focus on yourself sometimes.
Leo – Billy Hargrove
Leo, you have high self-importance. This isn't necessarily a bad thing, and it's why so many people are drawn to you as a leader. Billy represents the courage, fearlessness, and ego of your sign; the obvious top of his high school food chain. He has an incredibly expansive arch from tough guy and jerk, to brave savior (ultimately giving his life to save the kids). We don't get to see Billy in a very positive light, but that final moment of selflessness cements his status as a Leo. Be patient with yourself, Leo, and try not to look down on others.
Virgo – Nancy Wheeler
Nancy is an obvious Virgo. She's detail-oriented, analytical, logical, and an incredibly hard worker. As we see in Season 3 with Nancy, when Virgo's confront a path they don't like, they grab a shovel and start digging a new path. You're relentlessly undeterred by challenges, and your optimism gives you an unshakeable radiance that attracts people. Don't let the cynicism of the world get to you like it got to Nancy, Virgo. Your unique gift is your consistent positivity.
Libra – Dustin Henderson
Libra, you're a natural charmer. As the great equalizer of the zodiac, you're an excellent multi-tasker and even better at forging meaningful relationships. You're loyal to the core, unable to leave the people you love (even if it's what's best for you sometimes). Dustin shows us the lovable traits of Libra; his optimism, his warmth, his charisma, and his willingness to trust. Libra, you'd rather die trusting someone untrustworthy, than live without emotional intimacy in your life.
Scorpio – Joyce Byers
I think we can all agree that Joyce has been through a LOT. She definitely gives water sign energy; her emotional turbulence and constant self-doubt are hallmarks of a water sign. Specifically, she showcases Scorpio's craving for solid ground amidst their ocean of thoughts; as well as Scorpio's willingness to fight to the death for the ones they love. She's on a warpath to find her son, and nearly sets the ground beneath her ablaze as she walks. Only Scorpio's possess that kind of intimidation; so never let it go.
Sagittarius – Max Mayfield
You're an endless fountain of energy, Sag. You represent the most obvious fire sign traits (both good and bad); impulsivity, impatience, tenacity, and power. Max is never afraid to call out BS when she sees it, and she's got an air of fearlessness (even if that's not always the truth). She's a fighter and a warrior through and through, something most Sag's have in common. You may not take things as seriously as you should, Sag, but that can often lead to hilarious antics and make you the life of the party.
Capricorn – Lucas Sinclair
Capricorn, you're a logical thinker above all else. You're an expert at strategizing and planning, and will always make decisions with your head before your heart. As we see with Lucas, he's undeterred by conflict and debate; always striving to do what's right. Like most Capricorns, Lucas has a high regard for the status quo and rules, and he often corrals the other kids when things start to get out of hand. Don't forget to pay attention to your own satisfaction, Capricorn, ignoring it could lead to burnout.
Aquarius – Johnathan Byers
You're an unconventional leader, Aquarius. Many would be quick to say that Leo is the obvious leader of the zodiac, but that's not necessarily true. Aquarians make terrible followers, and their natural charisma, intelligence, and charm draws crowds; making them one of the best leaders of the zodiac (along with their humanitarian ideals). Johnathan is a creative, who isn't afraid to be a lone wolf (very Aquarius). He's also a rebellious companion, not leaving Nancy's side as they investigate the strange happenings around Hawkins.
Pisces – Eleven
Eleven's psychic powers are a very obvious nod to her empathy and connection to others (and the beyond). Emotional intelligence and empathy are the hallmarks of a Pisces. Eleven consistently puts herself in harms way for the people she loves; demonstrating Pisces' selfless nature. You may have trouble adjusting to reality sometimes, Pisces, as you live in an idealistic version of this world. Recognize that not everyone is good, and it's ok to have intense negative feelings.
Tell us what's wrong with this post? How could we improve it? :)
Let us improve this post!