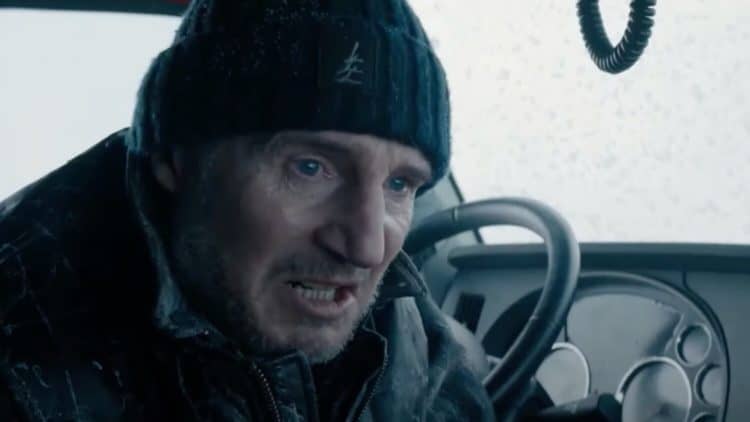 One thing we've definitely learned is that no matter what he says, Liam Neeson apparently can't stay away from action movies, which a lot of people are bound to be grateful for since he's still pretty good in them. It could be that he's staying away from movies such as Batman, Taken, and others that require him to get up close and personal with the action, but to some folks, action is action and this is definitely an action movie. As to the story, when a group of diamond miners is trapped after a cave-in a group of ice road truckers has to brave a treacherous stretch of ice to rescue them, but the real danger is that they have to drive on the ice as it's beginning to thaw, and there's another threat they didn't anticipate since it would appear that someone is out to hijack them for reasons unknown as of yet.
But as one can imagine, this is going to anger Neeson's character, which means that he's going to find some way to not only survive but also to make a comeback and kick some serious butt in the process. There's not much else to say other than what might be picked up by the many folks that sit and analyze movie trailers over and over to determine and theorize over exactly what is going to happen and why they're so certain. As some have already said, this kind of looks like the Fast and Furious on ice, and there's some basis for that since the trailer does show a couple of pretty risky maneuvers that might get a lot of truckers laughing aloud at the sight, especially since a lot of those that have driven on ice countless times could tell a person what's possible and what's not.
By now the thought of nitpicking is something that a lot of people are comfortable with when it comes to movies while others might be less enamored of it simply because it ruins the illusion that the movies build up. Sure, driving on icy terrain is difficult and dangerous at times, but there are people that do this for a living. And yes, there are such individuals that drive on ice to deliver supplies to oil rig workers and miners, and they tend to average about 15 mph in temperatures that can freeze parts of their vehicles. It's a dangerous job by all means, but it's a necessary one as well since they're responsible in some part for keeping a lot of people on those jobs alive and able to keep working in a safe and secure manner.
But one can guess that this movie is going to take things in a direction that will either make a lot of ice truckers laugh or perhaps roll their eyes in disgust since action movies like this aren't typically known for being as accurate as possible since lets' face it, accurate can be boring sometimes and a lot of movies love to kick things up a few notches in order to really deliver the experience that people want. But ice road truckers do have a rather perilous job and there's no doubt that their heart rates do rise at some point since these individuals are literally driving over frozen waterways to make their living.
A great show to watch before watching this movie, kind of, is Ice Road Truckers. Watching the show isn't meant to show a person how things DO work out on the ice, it's to show them that pretty much everything about this job can be exaggerated and that while there is a small bit of reality to the show, ice road truckers are often a careful and very experienced lot that don't take unnecessary risks and aren't bound to be out on the ice without a plan in place should anything happen. The movie is going along the same route as the show, to be honest, but it might actually be a little more factual about the job, hopefully.
But watching the show will no doubt get the audience ready for what they're going to see, a sensational movie about a very dangerous job that a lot of people might know nothing about since when a lot of people think about ice they figure that if it's thick enough it's okay to walk on, skate on, sit on and even create a shantytown on as they do in various parts of the US. But tell someone that a fully-loaded semi-truck is going to drive on an ice road and a lot of people might still look at you as though you've lost your better sense. This movie looks like it's going to be entertaining, but as with so many movies that are based around real life, it's likely going to be kind of hilarious simply because of the very thing that will attract people to it.