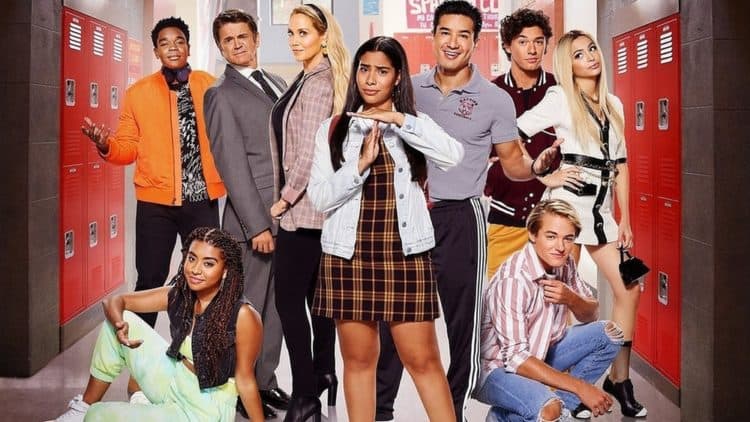 One thing that's been taken out of season one of the reboot of Saved by the Bell is that somehow, someway, the cast wants to get back to paying homage to the original show. Why? Well, it would appear that the cast simply wants to pay some respect to the show that helped this reboot to exist in the first place, which is nice and all since it does show a lot of respect. But once respect is paid, it's time to get moving forward instead of looking back as much. The past is going to be present as long as at least a couple of individuals from the first show are around, and others choose to make cameos here and there. But moving forward with this idea is a far better idea than staying stuck in the past with the same old feelings and ideas that people have seen already. So far it sounds as though the show has done just fine in establishing its own identity, but the continued desire of the cast to revisit times from the past with their own version of past episodes does feel as though it could get very old very quickly. Moving forward without feeling the need to bring everything back from the past would be great, especially since a reboot, no matter the fact that it's taking from an original idea, needs to establish itself quickly and push forward without giving up too much to the past. That feels odd to say since I'm usually so against reboots, but if one is going to create an idea and take it forward then it can't always be looking back.
It does sound as though most, if not all of the cast will be returning for the second season, and it might even feature Dustin Diamond if things go well, but that will be up to Diamond and his health, as he was diagnosed with cancer not long ago. Apart from that, it does sound as though everyone will be coming back at one point or another, but how they'll be presented is anyone's guess since it doesn't sound as though there's anyone solid idea of how the season is going to go, which is actually kind of nice since, as an episodic show, the core plot is that being in high school is challenging, comes with a lot of things that can and usually do happen, and is generally hard to predict. If there's anything accurate about the show, then it's the premise that pretty much anything can happen at any given time and that if an episode is meant to run into another one then it must be dealing with an issue that the writers can't open and close out in a single episode. Hey, these things happen, and it's not hard to accept since in real life most issues take longer than thirty minutes to deal with.
Whether a person thought that this show was going to work or not it does sound as though things are chugging right along and that the second season will be just as anticipated as the first, though it's always up for grabs to think of who might show up in the next season and what might happen. Saved by the Bell is one of those shows that a lot of people love and a lot of people could do with or without since it definitely caters to a wide range of people, but it's often been considered a little too tame for some folks that prefer the less certain shows and movies concerning high school that tend to show an experience that isn't all negative but definitely isn't as well-structured and capable as the one that is shown in this program. But to each their own, since it's already been established that the show went over well with the audience and that it will be heading back to Peacock eventually. But given the pandemic protocols that are still in place, it might not be until late 2021 to early 2022 that the second season will be released. One perk of that is that if the show really wants Diamond to come back it might give him a bit of time to recover and possibly find his way to the set if things are still going well. Right now there's still no way to know if he's going to be up for it or not, or if it's just a pleasant thought on the part of many cast members.
Not too long ago a lot of people felt the need to chime in on whether or not Diamond should even be allowed on the show, but now it would appear that they'd love to see him at least in a cameo role. However season goes it feels likely that he might at least get mentioned.
Tell us what's wrong with this post? How could we improve it? :)
Let us improve this post!