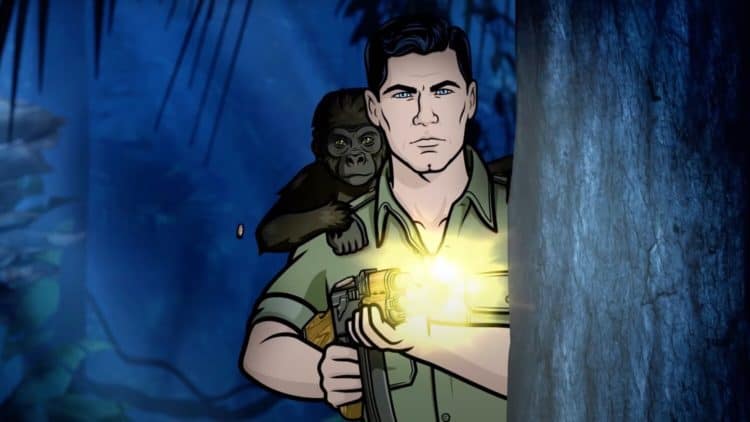 Though the show has entirely changed since the spy agency known as "ISIS", the defunct crew of characters with Archer (H. Jon Benjamin), who continues to complete missions whether he is in space, a noir detective, or shooting old treasonous lovers in Japan. The series has come a long way from its beginnings, though it has changed drastically season by season. The premise, a spy agency sharing a name with a real global terrorist network, obviously had to make some changes in order to survive. The seasons have gotten shorter as well. Starting with season seven, the show pared down to 10 episodes. Then whittled down to just eight each season starting with season eight.
In an interview with the cast members of Archer, the rowdy cast attempts to comment on the issue of shortening the seasons brought up by the interviewer on behalf of the show's fans. "You know, Adam is only gonna write eight no matter what we did", said Amber Nash, voice of Pam. Here the cast is referring to the creator of the show, Adam Reed. The cast goes on to bury Reed with conversation on how promises weren't kept, their wishes for longer seasons, how Reed is basically "ghosting" them by not answering to theirs and the fans requests. Of course, nearly all of this banter is in jest, but it is the kind of joking that is 100 percent true, but they're saying it in a sarcastic way. The kind of way you joke about a friend, a friend that can fire you. In 2016, after news from FX that the show would be extended three more seasons, Reed said that the series would come to a close after season 10 saying, "I don't know that anybody has talked about that, but that is definitely the plan– to do 8,9, and 10 and they're gonna be each shorter seasons of just eight episodes– and then wind it up." This comment riled the fanbase into a frenzy, ultimately with the fans winning on the show continuing, but the short seasons, that will stick around.
Surviving Less than Good Seasons
After season seven the show in many ways seemed to have "jumped the shark." The creators were reintroducing old character in similar storylines, dialogue and references were not what they used to be, but slowly and surely each progressive season grew and improved. Starting with season 11, the show got back to its roots in many ways. After three seasons spent unwittingly in the mind of a comatose Archer, season 11 brought us back to the same characters and antics we fell in love with in the first two seasons, except for the reality that Archer was no longer top dog at IIA (International Intelligence Agency). The financial troubles of the agency have always been a plot point, with each season the budget getting smaller. At times they used energy saving lightbulbs, resulting in everyone working in a dark office to save money, but one line of the budget that will not stand to be trimmed back is alcohol. Despite having to basically reinvent the series every season, the show seems to have always had a backup plan built in. Reed and the writers have made a strong theme of openly mocking the action movies of the 80's and 90's– from Gator, starring Burt Reynolds, to an episode titled "Top Gun."
Archer and Lana
Another common theme in the show is the volatile but irresistible nature of Lana and Archer's relationship. Though their relationship is not conventional, as its prone to violent break-ups, infidelity, workplace hostility, and Lana choosing Archer's seed from a sperm bank to have a child without his knowledge while she was dating someone else, the relationship creates great television and, as viewers, we believe that in some screwed up way they will eventually be together again. Their relationship remains unclear after the season 12 finale "Mission: Difficult", as Lana, voiced by Aisha Tyler, and Robert (Lana's husband, voiced by Stephen Tobolowski) are having some difficulties in their relationship, A.J., Archer and Lana's daughter, is in a Swiss boarding school, and Archer shows glimpses of growth paired almost instantaneously with his usual philandering self. However, we may see more of the two together as near the end of season 12, Lana breaks into Archer's home to curl up and cry on his bed, and Archer strangely enough, puts his gun away and comforts the heartsick Lana.
Remembering Jessica Walter
There was much uncertainty around what would become of season 12 of Archer. The reason for the confusion was because in March of 2021, Jessica Walter, who voiced the matriarch of the show, passed away. Jessica Walter's brilliant performance over the course of 12 seasons took the show to new heights and created the most complicated and realistic relationship in the show, between Malory and Archer. The finale of season 12 was a rushed but beautiful goodbye to the character. The final scene of the last episode, Archer reads a letter that his mother left behind. The letter entails that she is handing over the agency to Archer and his fellow agents. As H. Jon Benjamin reads the letter as Archer, his voice cracks with the sound of someone truly choking back tears as he reads, "Take care of yourselves, especially you my Sterling, because from wherever I am, I'll be watching over you." It was a heartfelt send off that had to be difficult for the cast members to get through, after working with Walter for nearly 12 years.
Later in her career, Walter often played characters that were pretentious and sometimes rude, but for those that worked with her, she was the polar opposite of her characters– a sweet and generous person. Walter was an accomplished actress who gained her stardom in the 1960's. Her work spans seven decades with over 100 films, shows, and appearances. Her most recent work was on Arrested Development and Archer, acting and voicing strong and irreverent characters past her 80th birthday.
What to Expect from Season 13
Now that the series is strictly a spy agency, as it started in 2009, the writers and cast have gotten back to their roots, but the upcoming season will be a challenge. With this challenge comes opportunities for new plot lines to develop. With the end of season 12 and the tragic loss of Jessica Walter and her character Malory, 'what will come of the agency' is the biggest question for viewers. The 13th season will likely involve some substantial power struggles over who is to head up the agency. These power struggles have always been present between the once love triangle of Archer, Lana, and Cyril, but the upcoming season will likely take it to new heights. As for the money troubles and excessive drinking, that I believe will die only when the show goes off the air.