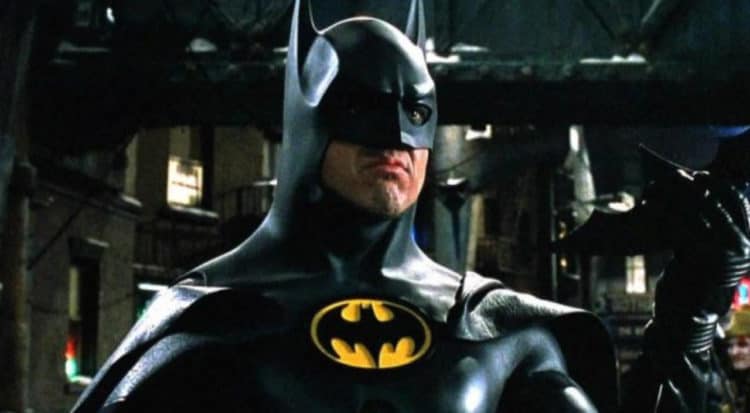 Well, what happened to all that great news about upcoming superhero movies? Remember when Michael Keaton was announced to return to the role of Bruce Wayne, aka Batman? But not in another Batman movie, however. Michael Keaton will be reprising his role as Batman for the upcoming Flash movie with Ezra Miller and directed by Andy Muschietti. Holy moly, was that a shocker for all of us comic book movie fans. How long has it been? I mean, his Batman movies came out before I was even born, so having him return is all kinds of weird to me. And I'll be honest, I was always in Christian Bale's corner when it came to Batman. Yeah, don't get triggered, Michael Keaton lovers. He's still good and I'll always appreciate his contribution to the character, but he's not my favorite Batman. Don't attack me, it's just my opinion.
Now I know many people are super stoked to have Michael Keaton return to the role. Heck, he's not my favorite Batman and I still want to see him put on the cape and cowl again. Now that he's almost seventy-years-old, it would be very interesting to see where he ended up as an elderly Batman. So pretty much everyone wants to see him come back, but a recent interview might have shattered those hopes.
In a recent interview with Deadline, Keaton confessed that his return as Batman in the upcoming Flash movie might not happen. Now to be clear, he didn't exactly confirm that he wasn't coming back. He did, however, get very specific on why his return as Batman isn't exactly set in stone. Based on the conversation he had with Deadline, Keaton was all for reprising his role. However, he also said there were two critical things that just might hold him back from doing so.
For one, Keaton is a busy man. He's got several projects lined up, including one that he himself is producing. And let's not forget that he's rumored to be appearing in the very much anticipated Spider-Man 3. If he comes back as Adrian Toomes, aka Vulture, then the MCU's Sinister Six will be complete. Now if he's going to commit to the Flash movie, however, his chances of being in Spider-Man 3 are less than likely.
On top of explaining his busy schedule to Deadline, Keaton is also very concerned about the pandemic that is still plaguing the whole world. Now this is something no one can blame him for, especially since he's reaching seventy. If you're worried about COVID (as you should be), and you or live with someone who is at high risk, then you're just as worried about getting infected as he is. Can't blame the guy for wanting to play it safe.
So that's basically what Michael Keaton told Deadline. The two main things that are holding back from donning the cape and cowl again are COVID and his busy schedule. These are both understandable reasons and if at least one of them doesn't get sorted out, then we might miss out on seeing him as Batman again. Hey, we all hope things will get back to normal soon, but if they do, why risk it? As much as we want to see Michael Keaton return, we should respect his dedication to his other projects and his concern for his own safety.
Okay, now this isn't the news we want to hear. However, I think we should also accept that losing Michael Keaton on the Flash movie isn't a huge deal. Again, don't attack me, Michael Keaton fans. Just take a minute to hear me out.
Now just think about Michael Keaton's role in the Flash movie. How big is it really? To me, if it really was a significant role, then Keaton would've had a very different tone. He would likely be raving about how excited he is to be back and give us an idea on what his role would be like. Hearing him basically saying "we'll see" just tells me that Andy Muschietti never really locked him in for the movie. If that's the case, Keaton was probably going to be in one or two scenes with him in the suit.
But what about that concept art Muschietti dropped at DC Fandome? Michael Keaton was standing with The Flash in his old costume! That was an awesome image, but the thing is, that was just concept art. Concept art is just something they come up with in the pre-production stage. Unfortunately, a lot of the concept art that they come up with doesn't always make it into the movie. That very awesome image we saw at DC Fandome might be one of those images that we don't see in the movie.
I really hope it does, but if it doesn't, we could always be getting something else. If there will be no Michael Keaton, then I vote something that's just as cool, if not cooler. You guys want another Batman? Then how about the main Batman from the Flashpoint storyline? Yes, please give us Thomas Wayne as the super badass Flashpoint Batman. The thing is, he cannot just be a quick cameo. There's a reason why that Batman had a major role in the Flashpoint storyline.
He's the one who assist Barry Allen during the crisis and their partnership leads to one of the most emotional endings in comic book history. It actually makes me very curious as to why we haven't heard news on whether or not the Flashpoint Batman will be in the Flash movie. I have a feeling that if he was, we would've heard about it by now. Then again, for all we know they could be keeping it a secret. I hope that's the case, but I'll admit, I like being the optimist.
And come on, who doesn't want to see Jeffrey Dean Morgan returning as Thomas Wayne? Only this time, he'll be suited up as the Flashpoint Batman. Seriously, that's a sight I think we all want to see. The man fits the role and if they don't take the chance, it will be the most missed opportunity ever.