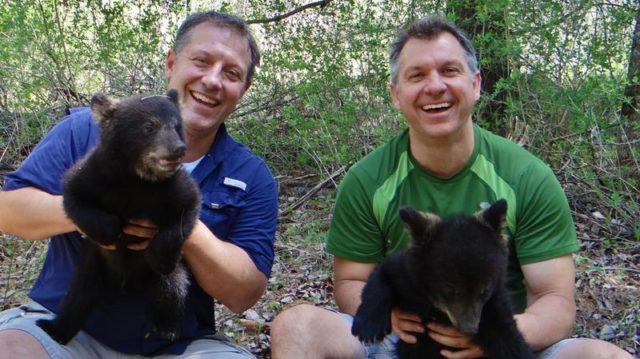 Beginning Sunday night, July 23rd, with second and third episodes on July 26 and 30th PBS and BBC One will is airing a nature reality show called" Wild Alaska Live". This program shows a week in the lives of various Alaskan creatures as they go on their summer feeding frenzy to bulk up for the winter. The footage was captured by nature enthusiasts and zoologist brothers Chris and Martin Kratt who have hosted many educational nature programs for kids, most recently the animated hit. "Wild Kratts". So why should you ditch your normal Sunday night prime time 8 pm viewing and click to PBS to watch this show? Lots of reasons:
The Kratt Brothers Know Their Purpose: The kids show aside, the Kratts take the wild creatures of Alaska seriously and show them proper respect. Unlike the Alaskan bear debacle of Tim Treadwell, the "Grizzly Man" who felt that he was a friend and protector of wildlife and ended up as bear food, the Kratt's know they are here to get careful footage for study and not stomp on nature's territory. The bears and wolves don't need "saving"– but the salmon might as they are a staple of the summer diet and they literally swim for their lives.
So Many Species: "Wild Alaska Live" does have bears, but also includes other tremendously interesting creatures such as walruses and whales. Contrary to popular notions, Alaska has many diverse inhabitants and how they all live together is amazing to see. You will see how these creatures live in family groups and interact with their predators.
Beautifully Photographed: Even if you book that Alaskan summer cruise you are not going to see anything like this. The cameras capture breathtaking scenes from the wilds of Alaska where tourists cannot go. Thanks to the Kratts and the production crew we will all be getting an eyeful of Alaska's wild splendor. "Wild Alaska Live" is a BBC and PBS co-production so you can be sure that some serious effort went into making this a visual feast.
It's Educational: Children can better understand how animals can hibernate if they understand their feeding cycle. Yes, it can be hard to watch the fish get clawed and pawed but that's nature. This show is a great conversation starter between parents and kids about animal protection vs. the realities of survival in the wild.
It's a Break from The Usual: So yeah, you might not have gone near PBS since the "Downton Abbey" finale, but "Wild Alaska Live" is worth taking a break from the usual Sunday night 8 pm fare. Plus, "Wild Alaska Live" is only an hour long so you can tune into "Game of Thrones" immediately after. If you miss it, you may be able to catch "Wild Alaska Live: on the PBS app or record it.
Not Staged or Scripted: These animals are just doing what comes naturally. The show does not take sides (although folks on social media are already picking sides–Team Grizzly vs. Team Salmon) but nature doesn't have referees of time outs.like a football game. There are no rules except survival of the fastest and the fittest. This doesn't mean that we can't cheer for them from our living rooms, although the wildlife could care less about us as their biological chow down bell is ringing. Come and join them for dinner!