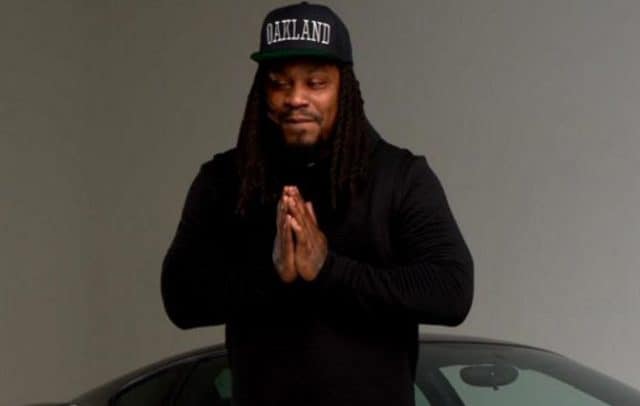 Following a suspension handed down by the NFL after he decided to grab hold of a referee, running back Marshawn Lynch decided to pay a visit to his old high school and show the current team just how things are done. Visiting his old stomping grounds at Oakland Tech he got to put the pads on and show the players the kind of skills that managed to get him into Berkeley and then into the NFL to become such a dominant force.
You might be able to see it on the field during a game but in this clip it's made even more apparent that Marshawn is not a very big guy. He's got a solid build and he obviously has the skills needed to play at a professional level, but he's just not a physically imposing person no matter what he looks like during a run. For all that however he has no problem plowing through people and making sure that it takes a significant portion of the defending team to tackle him. In the first run on this clip he makes it look easy as he skates past defenders and makes his way downfield, going so far as to stiff arm one defender as he does. In the next he goes down as the rush stymies his attempt to move forward. Then from the goal line he grabs the ball and looks like he's putting on a clinic as he goes running past as the players barely touch him.
There's been a lot of talk about Lynch since his days with the Buffalo Bills, where he was extremely under-utilized. He's not much of a talker when it comes to the press, he lets his actions speak for him, and he's been an awesome player during his time with the Seattle Seahawks. If anyone tries to deny that his best times on the field were with the Seahawks then all they need to do is go to the game films and see where he amassed his greatest following. Now that he's in Oakland, as was his desire, it's a sad thing to see him go but it's even sadder to see that he's not being used in the same manner so as to get him the ball more often.
It could be that the Seahawks relied on him just a little too much or it could be that once the focus shifted to quarterback Russel Wilson that Lynch felt he wasn't getting enough attention. To be quite honest he was a valued part of a team that was on the rise and used his contributions to get them to their first Superbowl title. In short he was one of the biggest contributors to their success and once they flubbed in the next big game it seemed as though they'd ignored one of their biggest assets.
Despite that it seems as though Lynch isn't really being used as much as he could be with the Raiders, and aside from this suspension it also feels as though he might have just needed to get back to his roots a bit. Running past and through high school kids doesn't sound like much of a challenge for a guy that's forced half of a professional defensive line to tackle him, but it might be refreshing at the very least.