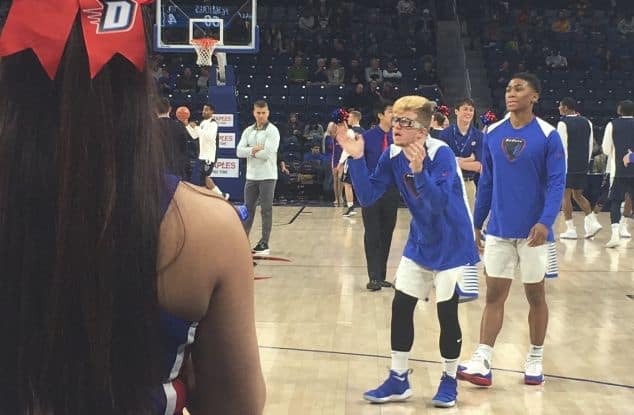 The walk-on player for the DePaul basketball team, Pantelis Xidias, might not be much of a player but he's quickly becoming famous for his bench antics. There might be more to him than just the rec specs, wild hair, and insane dance moves from the bench, but one thing he's obviously there for is to hype the team up. Being cynical for a moment it doesn't seem to be working all that well since DePaul still hasn't really improve and doesn't look likely to no matter what kind of dance moves Xidias pulls out.
Aside from being their hype man there's usually a reason why a player sits on the bench so often. If he sees playing time at all it might be because there's nothing else to be done for it and a losing game won't be made worse by someone that's better at hype-onomics than he at handling the rock. He keeps his own energy up at least and is increasingly positive with a team that might have added him on just because they needed another body. I would say that he doesn't look like the typical college player but really the sense of personal style and how and individual uses it doesn't always reflect on their level of play.
But I repeat, people stay on the bench for prolonged periods of time for a reason when it comes to sports. It means that they can't hack it on the court, the field, or wherever, and are there just in case they're ever needed. Xidias doesn't seem to care, he's going to get up out of his seat and cheer his team on as much as he can when something good happens. That's great and all, but according to their record as of late it's just not quite enough.
Personally I think he looks like the guy that just tries too hard too often and doesn't seem to get the fact that those around him are bound to have mixed feelings about his continued fervor. It doesn't mean he should stop, as that would be an attempt to quell the love he has for the game and where he fit in it. But if anything was needed to change it would be the fact that he's so continually upbeat that he doesn't seem to understand that the team could really benefit if he got better at the game instead of constantly working on the cheers that he uses for his teammates.
It wouldn't be a matter of losing his verve or even toning it down, but he could help out his team a lot more by becoming a more valuable player. He'd have to have some skill with the ball to even be on the team, so why not develop his skills even further and make certain that he's a more valuable individual? The team has cheerleaders, what they need now are player that can win games.
DePaul freshman Pantelis Xidias majors in BENCH HYPE pic.twitter.com/bs3dC9gX45

— CBS Sports (@CBSSports) December 28, 2017