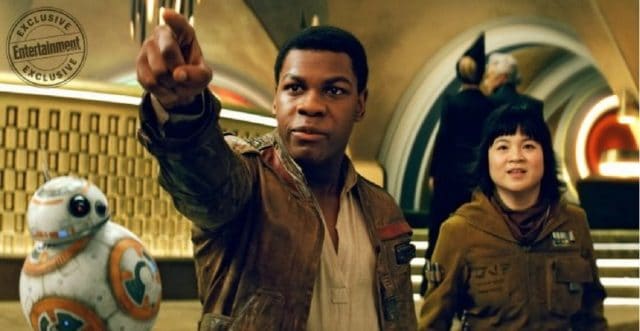 It's interesting to see when celebrities like John Boyega go undercover on Reddit, Wikipedia, Twitter, and many others. Boyega's popularity has been soaring the last two years since his appearance in The Force Awakens and has only been growing to even greater heights with The Last Jedi and everything he's done in between. There are a lot of interesting questions that people have decided to ask about his career, his origins, and just whether or not they can go to dinner with him or sit by him at the award shows. Sadly John is a good man and saves a couple of seats for his parents in such occasions. Sorry fans, but he's considerate that way.
It's easy to say that Boyega wasn't really sought after that much or even thought about before his role as Finn in Star Wars since he was a relative unknown. Obviously his interest in film has been strong enough to keep him in the loop just enough that his agent was able to get him an audition for the part of Finn though. From what he says it took about eight months of back to back auditions before he was given the part, and even now there are moments when he still seems to be overwhelmed. For a franchise such as Star Wars that seems par for the course, especially given that he's walking in the footsteps of those that have come before like Harrison Ford, Peter Mayhew, Carrie Fisher, and Mark Hamill.
One question that's interesting and raises equally interesting implications is whether or not Finn is Lando's son. Now we all know that Lando was no friend to the Empire and it's likely that if he's still out there that he's no friend to the First Order. In the expanded universe books that are no longer canon he was married at one point and had a child that was named after him, with the nickname Chance. Didn't know that did you? In the current canon there has been no sign of Lando and no mention unless someone in the film has let it slip and it was forgotten soon after. But if he did show up it would be an interesting development if he did have a child. Whether or not it would be Finn though is a very tough question to answer since I don't really see Lando just giving up his child to the First Order without doing everything in his power to get him back.
Another interesting thing that someone asked about his Boyega's English accent, which is southern according to Boyega. The fact is that he can drop that accent with what seems like ease and sound like a born and bred African American with a good enough accent to fool a lot of people. That's acting however, it's one of the key things that any actor has to learn when getting onstage, how to modulate and, if necessary, change your voice to your needs. Some people can do it at will and have no issue sounding like someone else entirely. Others need to work at it quite a bit to be believable.
John Boyega is a star on the rise.