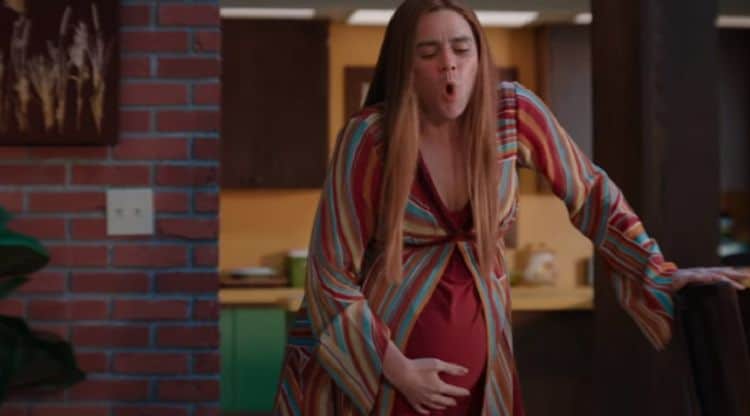 You were probably expecting to see Jim Carrey's face on Vision for the WandaVision deepfake, weren't you? Well, in this current era that's kind of out the window and anything goes since Carrey's mug was plastered over Wanda's, which was a little disconcerting, to say the least since seeing Wanda with stubble was a little off-putting to some folks no doubt. But perhaps it has something to do with the continual faces that Wanda was making during the incredibly short gestation period before she gave birth to her twins. Some people even called these her 'porno' faces since Elizabeth Olsen really got into the whole pregnancy deal to the extent that some people found it strangely alluring. Yeah, make what you will of that one since some folks are looking for just about anything to say when it comes to various parts of pop culture. But plugging Carrey's face onto Wanda's is enough to give people chills, and not in a good way since he looks absolutely nuts in long hair and a woman's body. It's bound to get some support if not a lot though since this type of thing is thought to be hilarious to a lot of people given that this type of humor can be pretty funny.
In fact, it feels safe to say that there won't be a lot of people offended by this, and if there are they might need to take a seriously big chill pill since it's all in good fun, and switching out faces isn't that big of a deal. It's creepy beyond belief, there's no doubt of that, but it's easy to laugh off since Carrey's expressions are pretty comical and one can't help but laugh at the guy most times, no matter how they might feel about him. Ever since he allowed his more politically-based emotions to be known through his paintings over the years it's been easy to dislike or admire Carrey depending on which way one leans in a political arena, but all the same, it's still easy to laugh at the guy's acting since he's been one of the most popular comedians for long enough that one can't see just ignoring him for little more than what amounts to his own opinion. In other words, he's still funny and he's still a great comedian and actor, even if you don't agree with his opinions on the world.
In terms of the show however one might want to think about how things are going so far since from episode 1 to 3 we've seen Wanda and Vision set up as the perfect sitcom couple with a few complications that have come along in the form of glitches of sorts that have been sorted out. But what's funny is that in some cases it feels as though Wanda might be the one fixing the glitches, but other intelligence says that it's not. Then there's the idea of how quick it's moving, but how little is really being revealed since for all that we've seen thus far, the show is still keeping several things close to the vest and hasn't really shown the overall unease that's being kept just below the surface. The suddenness of Wanda's pregnancy is only one more thing that's been seen to be kind of hard to take since there have been plenty of clues as to what might be coming and what is happening to the couple at this time. There's been an explanation for it of course, but a lot of fans are bound to remain a bit skeptical simply because they want to know exactly what's going on and what it will mean for the show moving forward. People aren't always as content as they say they are to wait and see how things will go, especially when it feels that their fingertips are as close as can be to pushing down the wall that's keeping them from the big reveal.
The first season is scheduled to run nine episodes, meaning that we're already a third of the way through the first season and are bound to learn eventually that Vision is either gone for good or that there's going to be a way to bring him back. To some this might feel like a slap in the face to the fans and a negation of Avengers: Infinity War, but others might argue that there might be a way to bring Vision back, in a lesser capacity of course. His shell, or body, is still there after all, and it's likely that Shuri managed to extract a bit of his personality and could possibly put him back together. But again, a lot of people feel that this would be kind of unnecessary, if only because it wouldn't allow Wanda to move on and would likely ruin the character.