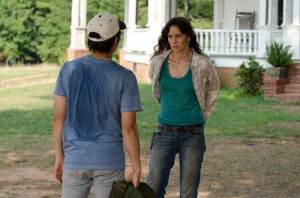 It was the first episode of The Walking Dead to ever feature just one zombie. "Cherokee Rose" proved to be a chance of pace after the rush of the last few weeks, though not without its share of contrivances. I'm talking, specifically, about the Well Incident.
The Well Incident the only part of the episode to feature a zombie, and it was a memorable one at that. The waterlogged zombie reminded me of a much grosser version of Doctor Who's worst monster ever, and it certainly is one of the most memorable zombies the show has served up to us yet. It's just too bad that it was the subject of a pretty abysmal tangental plot that eventually when nowhere. After all, was there really any logic in sending Glenn to his possible death just to pull a zombie from a well that was probably already contaminated? More than anything else in the series thus far, that entire segment of the episode felt really contrived — though it did provide the episode's required gross-out moment when the zombie's lower half exploded back into the well.
It was an otherwise good episode for Glenn, though, who had spent the previous three episodes largely in the background. The tongue-in-cheek innuendo regarding Glenn being the "go to town man" with a specialty in going "in and out" finally paid off with Glenn and Maggie's tryst in the drugstore, which was a nice moment in a primarily bleak episode.
The big reveal from the episode was undoubtedly Lori's pregnancy. There's the obvious question of who the father is, but there's also a much deeper dread to the discovery. After all, how successful could one be in raising a baby in the middle of the zombie apocalypse? It'll definitely be a while before we see the baby born, though. At the pace the show is going now, it could be a good five seasons before the mystery baby enters the picture.
All in all, The Walking Dead this week was probably the weakest of the season, featuring some pretty contrived plotlines and some pretty big logical fallacies. However, the elements that did work worked well, keeping the episode from being a bad one and instead making it just mediocre. The Walking Dead clearly isn't a show that does well with a slow pace. Here's hoping the show gets things cranked up again. C+