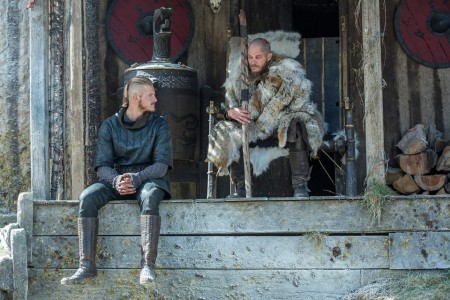 If it's hard to make sense of Vikings' brand of loyalty, it's because the series carefully shows that loyalty is much more complicated than it appears to be on the surface. Floki, acting out of loyalty to Ragnar and to the pagan gods when killing Athelstan, finds himself a captive in his own village. The Viking group that is stationed outside of Paris is murdered, despite one member's firm display of loyalty to Rollo. And Earl Kalf, singling out perceived disloyalty in Hedeby, has another group of villagers killed in cold blood (a group which, of course, is acting of its own loyalty). The way Vikings handles this has almost always been smart in terms of not making each plot point simply betrayal after betrayal. Motivation is always mapped out and charted with detail. The one problem, though, is the Lothbrok brotherhood.
Even though the fourth season of Vikings begins with two prophetic sequences–Aslaug finding out that a woman will be the successor of Ragnar in Kattegat and Ragnar being denied entrance into the halls of Valhalla during a fever dream–neither instance of foreshadowing establishes itself as important right now. Right now, the recurring issue of Rollo's loyalty to Ragnar nags. This has been a sub-plot of every season of Vikings thus far, so it's certainly appropriate to feel fatigued by its inclusion in "A Good Treason," especially since it is being set up to be a huge part of the season arc. Much more interesting than if Rollo will actually face off with Ragnar in war is just the fact that Rollo is living in Paris right now. The story calls for a reason for him to be allowed life and free reign in the foreign country, but you have to wonder if there was a better narrative out than pitting Rollo against Ragnar again.
Paris as a tertiary locale for the season would be fine on its own (theoretically). So much of the success of previous Vikings arcs has come down to how fascinating it is seeing characters acclimate to different cultures in different places. That's what made Athelstan such a fantastic character, and that potential is there with Rollo this season. At the same time, Rollo is also being used as a mirror image of his brother, not as a foil. When the wanderer leaves Rollo, the same dynamic that defined Ragnar and Athelstan's relationship is displayed: Rollo needs the wanderer not just as an interpreter, but as a confidant. Rollo's christening also brings his series arc closer to Ragnar, and we see the crudeness that defined his character early on worn down in how he treats his new wife, respecting the fact that she hates him and her current situation entirely. Rollo is a tricky character to get right, because it's so easy to make him a one-note character who fights and occasionally lets his self-destructive ways force him to make bad decisions. "A Good Treason" is an immediate remedy for that, but it's slightly tainted by dipping into the betrayal well again.
Floki's fate is the other major part of the season premiere, with Ragnar recovering slowly from his wounds and finding out that Bjorn has had Floki arrested. As Ragnar pointed out last season, he would never let Floki lead a raid without ulterior motives, but Bjorn has put Ragnar into a rough position that interrupts whatever grand scheme he has going in his head. The reason Ragnar is such a great leader in Vikings is because he's incredibly smart and forward-thinking (in both the sense of being a visionary and a planner). The other Vikings that surround Ragnar are operating at a different level, so Bjorn's imprudence is actually a smart writing move, forcing Ragnar to think on his feet (even though he can't stand very well; sorry, Ragnar). It seems unlikely that Ragnar will have Floki killed, but Bjorn's decision gives Ragnar the chance to come off as a harsh leader by leaving Floki to the elements, possibly freezing to death in the winter.
It's hard to say with any certainty where exactly Vikings lands on Floki right now. Obviously, Athelstan was a good (morally) character, and Floki murdering him wasn't something the audience wanted. But the episodes in the aftermath have made sure to explain Floki's perspective without sounding too desperate or misguided. Floki does, after all, have one of the closest ties to his culture of any of the characters in the series. And even if the series wants to propose amalgamation and development, characters being true to their ideals is still portrayed as a noble thing. These kinds of questions of how strictly do we adhere to personal code versus community code will be ones bouncing around in Ragnar's mind as he wakes up faced with way more conflicts than he needs right now. It's hard being king.
Runes Carved from My Memory:
Welcome to the fourth season of Vikings! If you're watching season four, chances are you're already fan, so I don't have to sell you on the fact that this series is much better than it needs to be. Let's have some fun this year.
Vikings-related tune of the week: Amon Amarth – "Runes to My Memory"
Yet another trademark time jump for the series, with Ragnar's kids looking like Bjorn from season one.
All the Lagertha-Kalf stuff is fine, but it's mostly just check-in and establishing the status quo. Still…that castration scene is not pleasant in the slightest. Nope, not at all.
Aslaug purchases a slave, who Ragnar seems to have taken a liking to. Ahh, Spartacus: Blood and Sand memories.
Bjorn claims that Ragnar doesn't believe he can survive out in the wilderness on his own. But wasn't it Ragnar lecturing Lagertha and Rollo last season, after Bjorn's injury, that Bjorn is a man, not a boy. Seems like Ragnar has a lot more faith in his oldest son than Bjorn knows. In any case, Bjorn in the winter wilderness can only make for good story and beautiful cinematography.
Tell us what's wrong with this post? How could we improve it? :)
Let us improve this post!