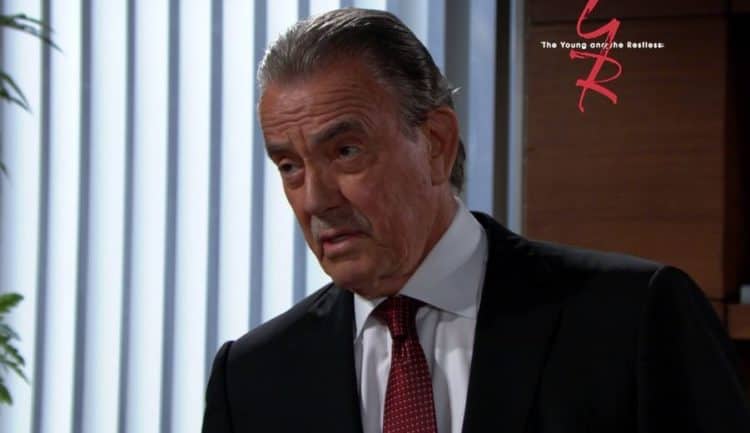 Young and the Restless fans saw that Victor and Nick have been dealing with a lot of drama in the past few weeks. Nick and Victor are fighting hard over custody of Christian. He is not Nick's son, even though his father has known this for years and never said a word to him. It was Sharon who told Nick about this, and now he is devastated. And now his father is working to hit him where it hurts the worst, and that's by arguing he should have custody of his grandson because he belongs to his dead son. Of course, Nick raised this baby, so he wants to keep the boy. He might not be his paternal father, but he is that boy's father in every single way that matters. It's one of the most beautiful things we've seen that he's doing to keep this boy.
But we've also seen that things are not going to go well with this. Nick was not happy when Victor got the temporary custodial order from the court. Nick is beside himself with upset and betrayal that his father would do this, and he argued that this baby needs to be with him. There is no reason Christian needs to be dragged into all this drama, but we all know that Victor doesn't care at all about anything like that. And then there is all that is happening with Sharon and Nikki. No one around here is getting along right now, and it's amazing how much this is affecting everyone else.
What's Happening on The Young and the Restless
Brittany is bringing up Sharon owning Crimson Lights, her volunteering at the crisis hotline, and her being a student at university. Great qualities. #YR

— Ashley Morgan (@WildHeartAshley) June 13, 2018
Everyone is losing their mind about what is going on with this situation, and we cannot help but wonder what is going on in Sharon's mind as she's being questioned about all she's got going on in her own life. Fans, on the other hand, seemed to love watching that happen. They seem to want to think she's got a lot to offer those around her, and that makes us happy. They are all standing up for her, saying she's got great qualities, and really making it easy on them to get their situation in order. It's been very exciting for us to watch, and she should love to see her fans that happy.
What's Next on the Young and the Restless
Abby faces the truth about Arturo today on #YR. pic.twitter.com/XFqZabnRq3

— Young and Restless (@YandR_CBS) June 13, 2018
Billy is not happy with Phyllis. It's almost funny to us that he even notices at this point in his career and his life, but he's noticed a few things that are not making him feel that good. He's not sure he likes that she is spending so much time with Nick. They have a child together, but that doesn't mean he likes to see her spend all that time with her baby daddy. And then there is the fact that her daughter is causing some personal drama within the families and within the community. He's not in a position right now where he needs his girlfriend's daughter making trouble for him in the legal capacity. He's got to get his life together, and she's not making that easy for him right now. So he's going to ask her to make some changes. And we can assume she will not be happy with those.
We will also see that Nick is going to make a promise. No, we think it's more of a vow. He will promise to take his father down to the ground until he cannot hurt anyone else in the entire family ever again. It's a big promise coming from Nick. Victor Newman is the most powerful man in town, and no one has ever successfully taken him down or done anything to beat him. But Nick is at a point where he cannot go back from what he is feeling, and he will not have this happening to him anymore. He's furious, and he will win this. He will find a way to get his son back, and it might allow him to take Victor down for good.
Stay tuned for more Young and the Restless and be sure to check out TVOvermind daily for the latest Young and the Restless spoilers, news, and updates.