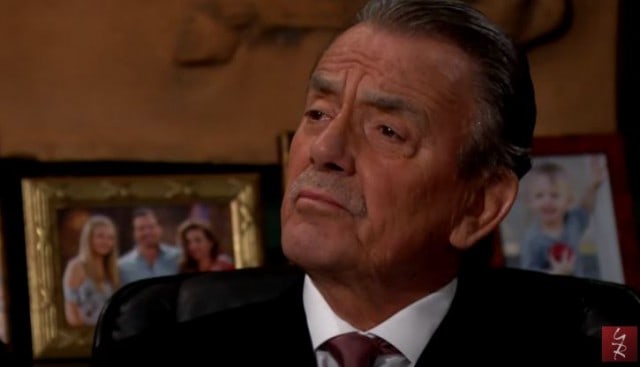 On Tuesday's episode of The Young and the Restless, we see a lot go down and it's all very telling information. For one, we see that Natalie panics over the thought that she might actually be the one that is being asked for in the ransom note that Victor received for Adam after his disappearance. She has no idea that it is not even remotely about her, but about Marisa instead. Fortunately, Mariah is there and she was able to calm her down long enough to get her back to work so that they can get this system in order and figure out precisely what it is that's going on. Flash forward over to Newman Enterprises and we saw that Kevin and Victor are not trying to let Nick in on the information that the woman in the note in Marisa. When he gets his answer, he starts asking Victor about Adam. Does Adam know what happened to him, why did this happen and what is going to happen now. Victor brushes off his concerns and tells him that he is sure that Adam will be back before much longer and that the situation is absolutely under control. Clearly, Nick is left with his doubts about the entire situation.
Chelsea simply will not give up on her husband despite everything that has been thrown at her this week. She's been asked if her marriage is solid, she's been lied to, she's been brushed off and she's been told to go away. She is not doing any of the above. In fact, she spent Tuesday's episode at Crimson Lights sharing her story with Sage. She tells Sage everything she knows, everything she suspects and the two lament whether or not Victor would do that to his own son. Chelsea, though, she is not convinced that he wouldn't. At that point, Nick comes over to speak and Sage shares with him the information that she just learned from Chelsea, but she's interrupted when Dr. Anderson appears. Sage has had enough of this woman and her meddling, and she makes it a point to head her off before she can get to Nick. Nick, on the other hand, is a little shocked if we can judge by his facial expression during the episode. Sage, tired of Nick standing up for the crazy doctor, tells him that he needs to make it a point to look and see what is really happening. She then heads straight to the hospital to check on the good Doctor's medical information.
Kevin makes his way out of the offices and is quickly ambushed by Noh and Luca, worried about Marisa and her disappearance. They ask him to find the security footage and allow them to see what happened when she was taken. Kevin is in on the entire thing with Victor from what we gather, and this line of questioning is not going to please him. He tells them straight up that he cannot show them this footage and that if they have an issue with that, it's Victor they need to speak with. At that point, Kevin made his way back to Victor's office to let him know that the trade is going down now; Marisa for Adam. Worried that the note might not actually be sent by the Santori family, Victor wants proof that Adam is alive. He is sent a photo of his son being held captive. Marisa is still being held captive, and we saw her tied up and panicked. She screams, but no one comes to her aid.
We see Kevin then head down to the club and confirm to Mariah that Natalie is the girl, but that Victor has no idea that she is and that he's convinced it's Marisa. At this point, we are all sitting around wondering what is going on and how it is going to go down. Who is the girl? Why is everyone so confused about this crucial piece of information? We'll get back to Kevin in a minute when he gets a call from Dylan. However, prior to that call, we see that Sharon is in the middle of a nervous breakdown and she fights with Dylan about his new role as detective and how she doesn't want him to do it, and that it's just too bad for her. This is the point that we see Chelsea come in — against Sharon's wishes — and tell her entire story to Dylan, who then calls Kevin. Somehow, however, the two women decide they are going to bond, and Sharon helps Chelsea feel better about Adam.
Photo Credit — YouTube
Tell us what's wrong with this post? How could we improve it? :)
Let us improve this post!