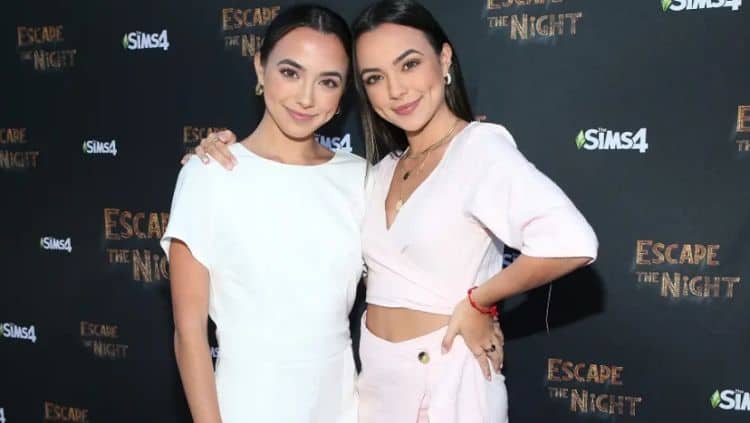 It's hard to talk about Veronica "Roni" Merrell without also talking about Vanessa Merrell, her identical twin sister. They are famous because of their YouTube channels, their acting jobs, and the fact that they are also musicians. They have been active in their careers for more than a decade, and they've amassed a huge fan base and a lot of people who love them. They are usually a pair, so it's not always easy to break them down into one person when most of their work is together. However, we are doing our best to do just that.
1. She's Young
Roni Merrell is not old. She and her sister are only 24. They were born on August 6, 1996. Actually, we said she is not old, but we take that back because she is the older twin by a significant amount of time. She's nearly 45 minutes older than her sister. As a mom of twins myself, my little girl is only 5 minutes older than her brother, and I did not have them via cesarean. Forty-five additional minutes between births seem like an eternity to me.
2. She's From the Midwest
She spent most of her childhood living in Kansas City, which is about as Midwest as it gets. While she and her family did spend a lot of time there, they did not live there forever. They eventually moved to Los Angeles back in 2013. She would have been about 16 at the time.
3. Her Move Was Work-Related
When she and her family moved to LA at the age of 16, it was because she and her twin sister were looking to work as actresses. They weren't going to find many acting jobs in Kansas City, so a move to LA was something that worked well for their family.
4. Their Dad Works With Them
When they began working on YouTube videos back in 2009, their dad was part of it. He's the one who edits and produces their videos, so a lot of their success on the channel is a family effort. We love that about them, and we think this is a great way to keep the family very close and make sure that they do well together.
5. She and Her Sister Have the Same Middle Name
Not only do they share the same face and all of that jazz being identical twins, they also share the same middle name. Their parents decided that they would be Vanessa and Veronica Jo, and it's one more thing that brings them even closer together than many siblings. It's cute, though.
6. She's Only Got One Dimple
As a one-dimple girl myself, I get this one. However, what makes it very interesting to those who don't know them well enough to tell them apart is the fact that her twin sister has two dimples. Veronica, however, doesn't have one on both cheeks. Hers is only on her left cheek, so you'll always be able to tell them apart if they are smiling.
7. She Doesn't Do Dairy
Well, maybe she does. We don't know. But, we do know that she is lactose intolerant, which means dairy products don't do well in her body. She's going to get sick, feel gross, and not have a good time if she eats dairy. However, there are things she can take for that, so we bet she sometimes does indulge in a pizza or a bowl of ice cream.
8. Her First Acting Job Was Cute
Remember when we said that she and her family moved to LA so that she could be an actress? Well, her first job was with her twin (remember when we said it's hard for us to find things that she does on her own?) and they were in a commercial for the hit store "Build-a-Bear," together.
9. She's Got a Huge Following
By herself on her personal Instagram page, she has more than 1.7 million followers. It's a lot of followers to have by yourself. Her twin has millions, too, and together they have a heck of a lot more than that on their YouTube channel. She is doing well on her own, but it's together where they really do well.
10. She's Got a Boyfriend
She spends a lot of time with Aaron Burris, who is also a social media influencer with a lot going on. There are some rumors going around that they might get married, but it turns out it was just a game she was playing with her sister, and the title of the video where that rumor started with nothing but clickbait.