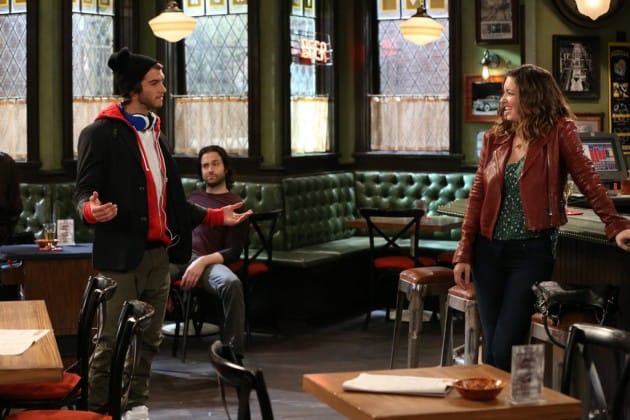 Although NBC may have no idea what it's doing with its comedy line-up (if the five comedies they still have consist of an actual "line-up"), they do have Undateable on their hands, a Bill Lawrence-produced, low-concept hangout comedy that makes up for its lack of ambition by just being a really entertaining, funny multi-cam about friendship, the dating world, and accepting the flaws in the people we care about. Despite averaging around two million viewers during its first season in 2014, NBC renewed the show for a ten-episode second season, which debuted last week -and its first two episodes have shown exactly why it's worth keeping around.
The first two episodes of the season revolve around the fallout of Season 1 and introducing Bridgit Mendler to the cast as Candace, a weirdo bartender taking a long-empty spot at the bar (oh, how we miss you Briga Heelan). It really goes about both of these stories accessing the show's single strongest story: the maturity of Danny from ladies man into a man, helping his best friend and roommate get over an ex, and doing his best to make sure a new person in his life understands that they aren't alone. Of course, this takes on humorous forms within the episodes – "Candace's Boyfriend" sees Danny and Justin become her de facto parents guiding Candace away from her loser DJ boyfriend – but both of them are part of Danny's slow, very Jeff Winger-ish transformation into a human being with empathy.
That growth is Undateable's great strength; underneath all the copulation humor and Ron Funches generally being hilarious (and the listless Burski, whose character never really connects with anything), Undateable is a show that understands the tenants of what can make a multi-cam comedy so accessible and worth investing in. We saw it on Lawrence's last series Ground Floor, and it shows again here: Undateable understands that as long as the emotions are genuine, it's really easy to make the rest of the pieces fall into place. Unlike other shows, that use a realistic setting to try and access real emotions, Undateable almost feels unique with its traditional stage setting and performance (there's an emphasis on physical performance, constant singing and improv… it's very Ground Floor in that way, too), and how it uses that to grow its characters – often, it feels less facsimile than the shows addicted to realism, and it's what makes it such a simple little pleasure on television – proving yet again that as much as CBS tries to kill it, the multi-cam still works.
Although Undateable was only renewed for a ten-episode second season, there's plenty of reasons to be optimistic for the series moving forward. The addition of Mendler is bound to add some pop culture cache to the show's audience, and both the opening episodes display a great balance of secondary stories (Leslie's gym story, or Brett learning how to kiss again) and recurring jokes (Danny's The Wonder Years voiceovers, which lead to a voiceover argument with Justin) essential to keeping the otherwise light 22 minutes moving. Undateable is not a show that's going to blow you away with poignant metaphors or huge, emotional swells, but in a television landscape littered with so many anti-hero stories, high-concept series, or show's Trying To Make A Point, Undateable's laid-back nature (and terrific command of it) makes it one of television's hidden simple pleasures.
[Photo via NBC]