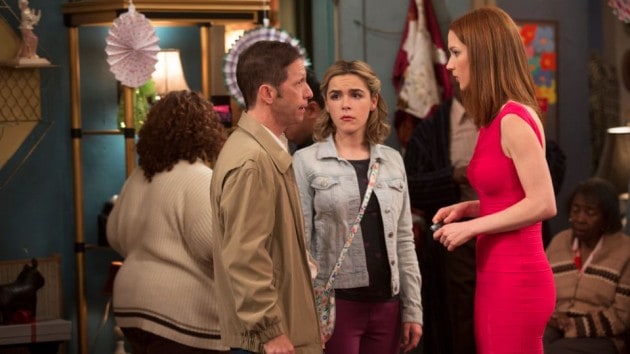 "Kimmy Has a Birthday" is a very different episode of Unbreakable Kimmy Schmidt than those that have come before it, as it attempts to fill in the gaps about Kimmy's true identity. Up until this point, her family situation had been a mystery; in fact, there hadn't been a single mention of her upbringing or her relatives. In our eyes, Kimmy's past only equated to her fifteen years underground, that is, until now.
Given the fact that Kimmy is celebrating her 30th birthday, her stepfather, Randy Peterson (played by Tim Blake Nelson), and half-sister, Kymmi (Mad Men's Kiernan Shipka), show up in NYC to surprise her. Kimmy is not thrilled by their presence, and her feelings are explained through a flashback that brings the audience to the moment where the Mole Women were reunited with their respective families. While the rest of the bunker ladies see their beloved ones again (and face different realities at that), Kimmy doesn't find any familiar faces. Instead, she first meets Randy, who explains to her that he was, incidentally, the police officer in charge of the unsuccessful investigation to find the women. He happened to marry her mother, and they had Kymmi; unfortunately, however, Kimmy's mom is M.I.A.
Because Randy and Kymmi (who hates her older step-sister to death) represent everything Kimmy is trying to leave behind, she lets them know they are not welcomed. At the same time, the protagonist believes that they are putting her in the wrong set of mind to be celebrating her birthday. For the very first time in the show, there is another side of her shown.
There are a multitude of elements that threaten to ruin Kimmy's party. To begin with, her boyfriend showers her with impersonal gifts, and fails to offer her any help planning or hosting the party. Then he accidentally takes credit for the gift she liked the most (a bicycle Dong made by combining artisan and theft), which happens because Logan had his assistant purchasing every gift. The cherry on top is that Logan gets jealous of Dong, and the two even start a fight. Additionally, Titus disappoints Kimmy with his music choice for the evening and by inviting a mystery man he met at his job, while Randy and Kymmi crash her apartment, and the sisters have a fight that prompts the younger sibling to run away (and somehow causes Randy to end up doing drugs). The evening is not at all what Kimmy had imagined.
Damage control is done to a certain extent, and thanks to Randy's inability to locate his daughter, Kimmy helps him find her, while at the same time, reconsidering the configuration of her family. She finally decides to give her sister and stepfather a chance, and they end up dinning together at Olive Garden.
This episode of Unbreakable Kimmy Schmidt was very efficient and gracious at providing context, while at the same time, the darker side of Kimmy made an appearance. The change in the tone was warranted considering that this unbreakable individual has gone through something that could only be described as life-changing and earth-shattering. I, for one, fully appreciated the layers added to the character and how the episode developed.
Highlights:
– Everything Titus. From his "I can't fix America" response to Kimmy's complaint about music, to his choice to sing (and plagiarize) Katy Perry's "Firework" to her as his gift, to the gem of a storyline between him and his ex, Kimmy's roommate was the highlight of every frame he was part of. I do not say this lightly: Tituss Burgess might be the best sidekick we have seen in years.
– Logan bringing four ice cubes to the party was ridiculous, yet hilarious.
– Kimmy and Kymmi's argument, while using invisible objects, was simply genius.
[Photo via Netflix]