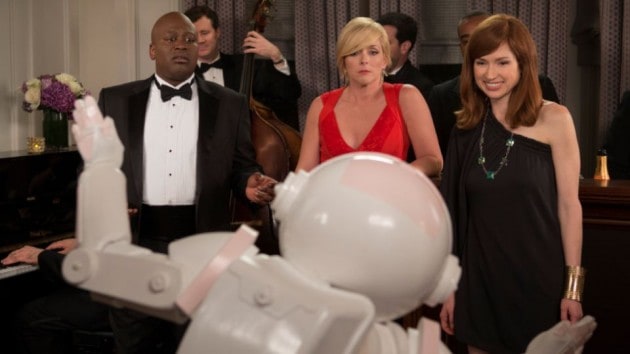 While "fake it till you make it" is a very current mantra, or better yet, one that has never gone out of style, Unbreakable Kimmy Schmidt takes that idea one step further, employing "act like you belong, and the word is your oyster" as the unofficial motto of "Kimmy Goes to a Party!"
The words reach Kimmy's ears when she and Titus go to a fancy cafe and pretend to be part of New York City's elite, which involves Kimmy using a banana as if it was a phone, and Titus making believe that a cardboard made laptop is in fact a sophisticated electronic device. To add to the comedic act, the duo's fake French is hilarious, while Kimmy's pronunciation of "Beyonce" is one of the wittiest things done to those three syllables. From this cold opening on, the audience can sense that the episode is going to be a little bit coo-coo.
Performing basically zero nanny functions and being dragged more and more towards Jacqueline's daily dramas, Kimmy finds herself assisting her boss in the attempt of collecting evidence that the woman's husband, Julian Voorhees (Mark Harelik), is in fact cheating. For this purpose, Jacqueline and Kimmy set up a trap that involves talcum powder, with the goal of catching Julian with a smoking gun, during the exclusive dinner party that would take place at the Voorhees residence later that afternoon. Though funny enough, the conflict does not really pose a threat for anyone. When it comes to Kimmy, it is already clear that she does not fit in in the Upper West Side stereotypical environment, while all the same, regarding Jacqueline and Julian, the fact that he is cheating is practically a given.
Kimmy hires Titus as the entertainment of the party, while, simultaneously, he acts as her fairy godfather and gives the girl a makeover, for which he gets 100% creative. Getting Kimmy's look finished is half scavenger hunt, half Fashion Emergency. Now that Kimmy looks the part, all she needs is to ACT like she belongs, which leads to the heroine doing an impersonation of what she believes is socialite behavior and going by the alias "Kimberly Tiara VonLobster." Of course, Ellie Kemper struck comedic gold with her Kimmy's take on the 1%, all the while, the character grabs Logan Beekman's (Adam Campbell) interest.
Pop-up teenage nemesis Xan Voorhees, whose back and forth dynamic with Kimmy continually pays off, is the only person in the house who wants to expose -and is onto- Kimmy, which does create a very light parallel with Jacqueline going after Julian. The young girl, who can really smell the bunker on Kimmy, decides to tell Logan Beekman, the millionaire who had been courting the former Mole Woman, that she works there, thus, ending the potential of any development. Meanwhile, Jacqueline's plan backfires when she realizes that her husband is not cheating with anyone at the party; instead, he was being secretive about his investment on a robot. However, later on, she realizes that she had the what right; she was just off on the with whom.
At the very end of the episode, having learned that pretending doesn't necessarily lead to success, while it, almost always, is a gateway to shame, Kimmy gets surprised when Logan Beekman shows up at the Voorhees residence and seems very taken with the fact that even though she was pretending, she was not after him because of his money and power. Kimmy, in his eyes, was just an accidental gold digger, and now that he knows that she was just eager to fit in, he is more charmed by her. It is a nice development, and reinforces the moral, although, Beekman not caring what Kimmy does for a living is less realistic than the robot plot altogether.
Intertwined with the marital betrayal and the fake personality is Titus' arc, which is small yet possesses potential to continue throughout the season and become a laughter factory. Almost by chance, like most breaks that people get on Unbreakable Kimmy Schmidt, Titus first blows his chance to marvel a party guest who he believes to be a Broadway producer, only to subsequently scare the man half to death and get an offer to work at a performance bar with a horror theme, which I can only picture as a gory, darker Stardust.
All in all, this episode of Unbreakable Kimmy Schmidt has a good pace and shows interesting developments, while keeping the comedy as fresh as it has been since the pilot. On the other hand, the cast keeps outdoing itself, which, though hardly surprising, is comforting. That said, "Kimmy Goes to a Party!" is one of the weirdest episodes of the show so far. I must admit I was not in love with the storyline of the robot, while it is hard to buy what Logan Beekman is selling.
Highlights:
– Jacqueline and Titus teaming up to bury Yuko, the robot, is priceless. I wish the duo had more on screen time as such.
– Kimmy and Xan bickering is not only funny but also quite realistic. If you listen to a nanny in NYC arguing with a spoiled brat, the teen's response would be very similar to the young Voorhees. Kimmy's comebacks are just too good to exist in real life.
[Photo via Netflix]
Tell us what's wrong with this post? How could we improve it? :)
Let us improve this post!