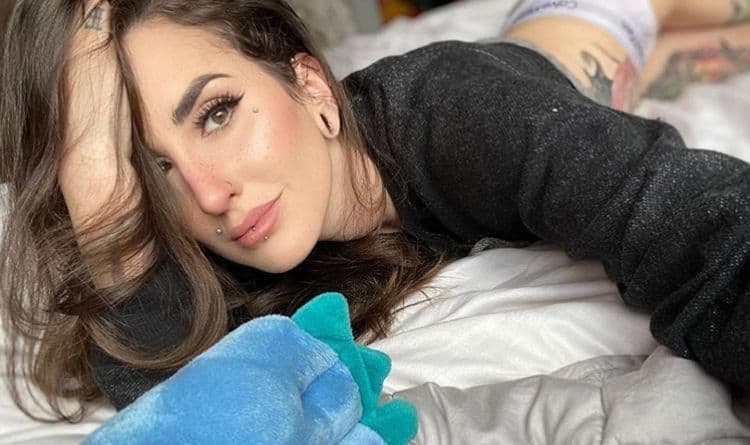 Vegas Rat Rods seems like it's really a guys show that features mostly guys working on cars in one way or another and is a guys club to which women aren't normally invited. Twiggy Tallant however has made it her home and has shown that the boys club isn't just accepting of women, but they're willing to teach a woman that's truly into what she does the ins and outs of the trade. Twiggy has been sticking in with the guys for a while now and has shown a true aptitude for the trade by learning on the go and taking classes in order to become an apprentice and then a full member of the garage. There's no doubt that she's pretty tough and can handle herself at this point and has learned how to be one of the guys while still remaining one of the girls. Anyone that tells you she's not tough enough is kind of full of it.
Here are a few things you might not have known about her.
10. She never expected to be a reality TV star.
This was one of the last things she expected to be honest, she just wanted to work on cars. After modeling around them for a while she grew interested and eventually fell in love with the idea of working on cars. She had no aspirations to being a star before the show was created.
9. She was a model.
This is what Twiggy was doing before she was introduced to the world of Vegas Rat Rods, and where she actually fell in love with the idea of working on cars for a living. For her it was love at first sight the way she describes it.
8. She didn't know anything about cars before the show.
Twiggy didn't know much more than the average person did until she decided to start asking and eventually become an apprentice to the lead actor of the show, the owner of the garage and the inspiration behind a lot of it.
7. She's had to be pretty tough to survive in the garage.
Being around a bunch of guys she had to develop a thick skin to survive and even thrive as she's done. But Twiggy has managed to toughen up and become just another one of the crew while keeping her own style and personality intact.
6. Since the show had to have a Canadian on it she was one of the three that fit the bill.
The show is backed by Canada so one of the requirements was that it had to have at least one Canadian in it, and Twiggy fit the bill there so she was in without a doubt, but she also had the drive and the passion to learn so that helped a great deal.
5. She's had to put her life on hold for the show.
In truth she's not the only one since a lot of the crew have had to put their lives on hold at times in order to keep the show running and make appearances now and again to make certain that people will remain interested.
4. With Cheyenne gone she's the only woman in the garage now.
There were two women at one point but since Cheyenne decided to leave Twiggy will be the only woman left in the garage. Something seems to indicate that she'll be just fine however since she's a lot tougher than people give her credit for.
3. She did go to class for automotive technology.
Once she knew that she wanted to get into the garage and get working there was really no stopping Twiggy since she went for it full-bore and didn't look back. This was definitely one of those life-defining moments that was do or die, and she decided to do.
2. She's been on Vegas Rat Rods since the first episode.
Twiggy was around before the show even got started if you couldn't deduce this by now. Her passion drove her into the garage a little while before the show got started and since she fit the bill and was already a part of the crew she was added in and she's been going strong ever since the debut.
1. She's got a decent following on social media.
Her following isn't in the hundreds of thousands but it is great enough that people have obviously taken an interest in her and have decided that she's worth checking out now and again. A woman working in a garage is no longer a rare or uncommon thing but depending on the region you live in it might still be something impressive to see since it doesn't happen all the time.
You could say that she's helped to shatter a few myths about women working in a man's field that used to be so prevalent, and you'd be right for saying so.