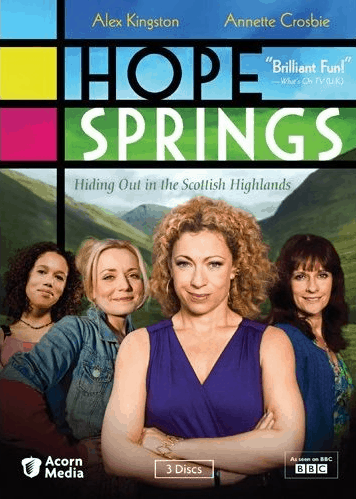 I had no reason to watch Hope Springs save for one thing: Alex Kingston. The actress, who you probably know from her role as River Song on Doctor Who, stars in the series. Hope Springs originally aired on BBC One last summer, and was released on DVD June 1. Having just received a review copy from Acorn Media, I have to say that the series surpassed my expectations.
The show aired for a little more than a month; it's eight-episode first series was also its last. The BBC cancelled the show because it "did not find its audience in the way that [they] had hoped."
And honestly, that's to surprise. The show is done in such a way that I'm still unsure who it's intended to appeal to. The septuagenarian Annette Crosbie (who also appeared in the fifth series of Doctor Who) seems to be a sort of Betty White character, while the rest of the main cast resemble members of Ocean's Eleven, to an extent — save that they're much less cool. The show is really an odd mix of Ocean's Eleven, Desperate Housewives, and Hot in Cleveland. Acorn Media claimed the show "mixed crime with fish-out-of-water comedy," and that's very true. But the Desperate Housewives element of soapishness also remains with the characters' interaction with the members of the small town Hope Springs, a Scottish village where they flee to escape gangsters whom they just robbed for millions.
Aside from Crosbie and Kingston, the cast really isn't all that memorable, though the show manages to be a fairly solid affair. Only rarely did I find myself bored with their antics, though the series did begin to show a little wear during its second half.
As for the DVD set itself, it's standard. Three discs contain the eight episodes, as well as a photo gallery and a biography of Alex Kingston. That might be considered barebones, but a show like Hope Springs doesn't really require much special features. The packaging is essentially one DVD case in a cardboard slip, and is one of the sturdier ones I've seen from Acorn.
The verdict is this: if you're a fan of any of the shows I mentioned above, you'll probably really like Hope Springs. It mixes quaintness with modern crime, and it's a happy little diversion that you could probably watch in a week or two. Is it anything wildly special? No, of course not, but it's certainly better than I thought it would be.
You can order the DVD at Amazon for $36.49.