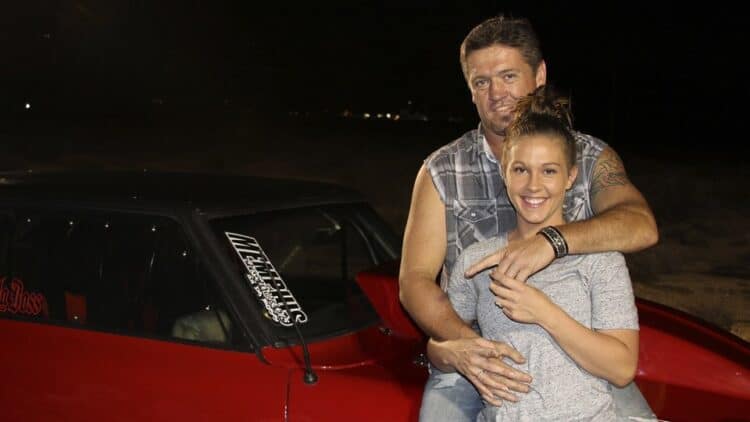 When Tricia Day began her career as a reality star, she knew that she could be hurt or even killed at any time. She knew this because she is a street racer, and anytime you take a car that fast on the road, you put your life on the line. She knew this, but she didn't expect to find herself in a fiery crash that would hospital both herself and her husband – and she certainly did not think that she would find herself badly injured after a serious wreck because of her husband hitting her with his own car while driving in a race. How is she now? Let's find out.
1. She is the Wife of a Reality Star
She is the woman behind JJ Da Boss. His given name is Jonathan Day, and he is the man who races cars. He's a professional in the race industry, and fans were excited when it was announced he and his wife were coming to the show.
2. She is a Racer
What might surprise those who don't know her well is that she is also a street racer. She's not as famous as her husband, but she's good. She made a name for herself in the business, and she's continuing to do big things for herself and for the show.
3. She is a Southerner
She's someone who doesn't do much talking about her past, but we do know that she hails from the south. She might not be from the deep south, but she is southern enough coming from Memphis. She was born and raised there.
4. She Has a Nickname
If you don't know her by her given name, perhaps you've heard of her through her nickname. She's often called midget, and it's because she's just tiny. Some might take offense to that because it seems someone is always taking offense to something and no one can just live and let live any longer – but she takes no offense to it, and it's just a cute nickname.
5. She is Doing Well
It is said that she has a net worth of around $1 million. Of course, she and her husband have an estimated net worth together of anywhere between $1 million and $1.5 million. They are doing well, and they are earning an honest living in the racing world.
6. She's into Cars
If you know anything about her family, you likely know that she is very much into things like old cars. She and her husband work together to buy old cars and refurbish them. They turn them into something completely different than what they pick them up as, and it's a situation that will always make them happy.
7. She Was in an Accident
She and her husband were racing while filming their show, and things did not go well for them. Sadly, they were involved in a car accident together. Something happened to her husband's vehicle while they were racing against one another, and that led him to crash his car into his wife's car. The accident was a bad one. It was bad enough that she spent some serious time in the hospital.
8. She Underwent Surgery
When her husband's car crashed into her car, she was forced off the road and into a line of rental cars that were barricading her from the edge of the concrete barriers up against the road. The accident caused her to require surgery on both of her hips, and she is not expected to return to the show anytime in the near future.
9. She Had Screws in Her Legs
It was mid-March before either she or her husband were able to walk on their own again following their accident. The first time she spoke out about the way things were going, she spoke up to say that she was involved in a crash, it did not go well, and things were finally looking up. They both had two screws in their legs, but they also both had one of their screws removed.
10. She's Healing Fast
Her doctor told her it would be a minimum of six months before she was able to move even with limited mobility, and she's far ahead of that schedule. She is recovering much faster than they thought she might, and the world is so happy to hear that. It is our sincerest hope that this couple continues to heal, to get stronger with each passing day and that they are happy to be home and with their
Tell us what's wrong with this post? How could we improve it? :)
Let us improve this post!