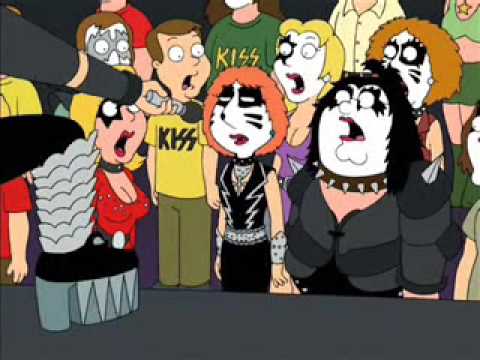 Some songs don't seem to translate as well to film as others, though I am fairly certain that I Wanna Rock and Roll All Night has been featured in more films than I managed to find. Regardless it's been used extensively in TV, where KISS seems to thrive more often than not. As one of the most popular bands of all time they've been featured in so many different venues that you would think that their entire list of songs might be popular along a wider spectrum. It could be though that the songs that fans listened to the most got the most attention while those that were left behind were used in the best way that people found possible.
Anyway, here's a few great uses of this song.
5. Lip Sync Battle
I honestly did not know that Ceelo Green was all tatted up like this. He definitely takes on a unique look by donning the batwings and look of the Demon from KISS. He almost looks a little nuts to be honest but he pulls it off by making it work for him as he makes his way through the track. He kind of looks like a squashed version of Gene Simmons to be honest.
4. Dancing With The Stars
This wouldn't be a song I would think would make for a good dance number. It's energetic, it's dynamic, but the type of moves you'd need to make it work don't seem like they'd be easy or prone to letting a person rest in between one movement and the next to match the pace of the music. Of course I'm proven wrong however as you watch the video and the choreography.
3. Family Guy
Wow. If you're going to a concert and standing in the front row where you might be given the chance to sing you might want to learn the lyrics. As a massive KISS fan though you'd think Peter would have prodded her just a little to get the words right. But this is indeed a travesty when it comes to music. How in the world could you not know such an iconic line?
2. Why Him?
It might come at the end credits but it's still workable since you can honestly ask how many people would be able to hire KISS to come and sing for their personal amusement. Plus, to get them to sing Christmas songs before their top hits would be something else as well. They do a pretty good job of it really but once they get into the swing of it things get blissfully normal.
1. American Idol
Once again, a show that I didn't think they'd ever be on. I do think that people trying to sing KISS songs on this show would be entirely feasible, but to see the entire band up there on stage is a real treat that a lot of music fans likely didn't anticipate.
KISS has a lot of great songs to their credit, but this is one that most people, fan or no, can relate to.
Save