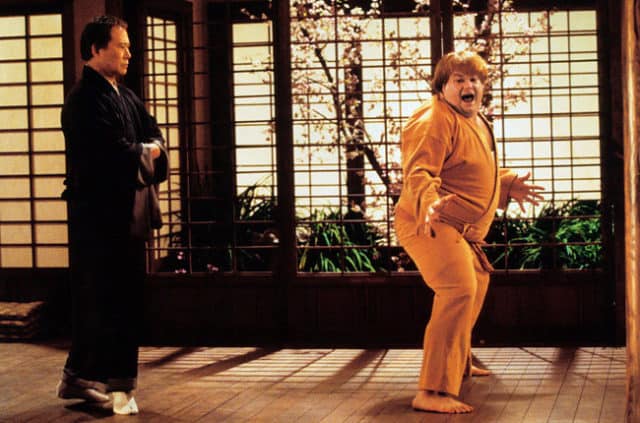 Kung Fu Fighting kind of overshadowed the career of its creator, Carl Douglas. In the US he's been known as a one-hit wonder, but in the UK he had at least two other songs manage to elevate him to a little more fame. Of course given that Kung Fu Fighting has been used so extensively being a one-hit wonder in the US wasn't such a bad thing. In fact the song is still being used in film and TV since it's such a popular and highly adaptable song. Chances are if you watch a fight scene that has any Asian undertones to it you might hear this song. It's one of the more popular background tracks to use and has been around for quite some time.
Here are just a few instances in which it was used to great effect.
5. Kung Fu Panda 3
Po had a very interesting character arc throughout the three movies that he was the star of. He became the student, then the warrior, and then the master. Each film has him developing just a little more as he finally comes full circle and has mastered Chi, the life-giving force that resides in every person. Plus he managed to figure out just who he is and answer the question of he came to call a goose "dad".
4. Dancing With The Stars
This song doesn't seem like it would offer itself up to anything other than this. It's possible I believe to adapt it to any dance but it seems to fit with this particular dance the most. It could have been that this was just the dancers' favorite dance or that they figured it would be the easiest to adapt. It's hard to know how they make their selections sometimes.
3. Rush Hour 3
A lot of people let out a collective groan when Rush Hour 3 was announced but you kind of had to expect it when Chris Tucker let it slip in the outtakes that a particular bad guy wouldn't be in the third film. Of course that could have been a joke but obviously someone though it was a good idea and went ahead with the making of this third movie.
2. Scrubs
Scrubs was one of the funniest medical shows that ever aired to be honest. It paired the very serious idea of working in a hospital with the comical nature of what it means to compete at such a level and deal with very real issues. The moments of levity helped to break up what might have otherwise just been another medical drama among the many.
1. Beverly Hills Ninja
Haru is about the worst ninja you might ever watch but obviously when his concentration is on he's no one to be messed with. I get the feeling that a lot of people heard Chris Farley and 'ninja' and might have wondered just what Hollywood was thinking. It didn't get a lot of rave reviews but it was still pretty funny. Plus it poked a little fun at martial arts movies.
Everybody was kung fu fighting!