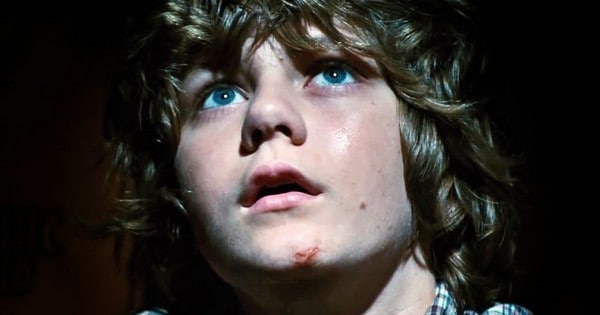 Ty Simpkins actually made his screen debut when he was only three years old in the remake of War of the Worlds. Despite the fact that the movie was kind of a box office flop Ty has been kept busy ever since as his career has been hitting high and medium notes throughout his life. Currently he's on the hook for a couple of projects that are still in production, but chances are good that he'll keep showing up and delivering the kind of performances he's become so good at throughout his impressive run in the industry.
Hopefully the kid doesn't get burned out anytime soon.
5. Insidious-Dalton Lambert
Insidious was one of those movies that opened a whole new door to terror when it came out. Granted a lot of horror movies have come along and terrified us in their own way, but this one blew the roof off by taking it to another level, and by doing what is seen as kind of touchy for any movie, using a kid to deliver the chills. While no one is immune from the horror it's usually kind of messed up to use kids, even if the terror becomes that much more intense.
4. The Next Three Days-Luke
Having to go see either of your parents in prison wouldn't be an ideal place for a kid, especialy if they understand the score and why their parents is locked up. But it might be worse for the kid if they have to later on realize that their father is going to risk everything by busting their mother out of prison. Usually that means the kid has to go somewhere else and upend their life just a little more.
3. Iron Man 3-Harvey Keener
https://youtu.be/I9UEjiT0nHQ
This almost feels as though Marvel is trying to set up for a possibe replacement, or heir to the superheroes that have been around for a while. Tony Stark just seems flat out tired and perhaps ready to move on with his life. Harvey might not be the heir apparent but he's certainly a bright kid and could be someone important in the years to come if Tony bothers to remember him. After all the MCU will want to keep going and there needs to be those who will catch the torch once it's passed.
2. Hangman-Max
Based on true events this story is simply too creepy since the trailer is doubly so. Imagine someone being in your home and you have no idea about it until it's too late. The very idea should send chills running up and down your spine since the invasion of privacy and the audacity it would take for anyone to simply enter the home of another and commit such acts is beyond the normal scope of what people would think possible.
1. Jurassic World-Gray
So three movies wasn't enough to show anyone that bringing back creatures that nature selected for extinction is not a good idea. Okay then, it seems that humanity has to learn the hard way when they create something that nature never intended. The movie was actually really well done but the idea is still something that we can only hope scientists don't think is a viable idea for the future.
Give it to Ty Simpkins though, he's become very good at what he does.