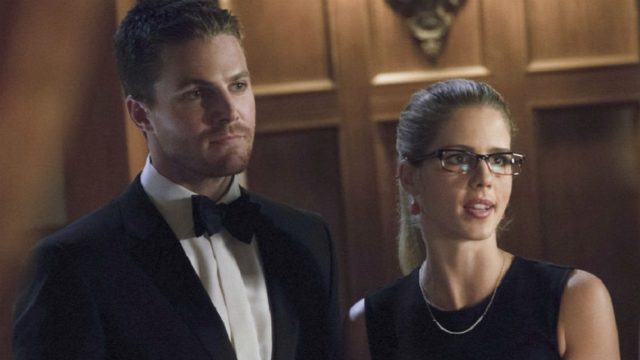 In the first episode of Arrow, Oliver Queen takes an ill-fated weekend pleasure cruise on the family yacht. He also takes his romantic partner's sister on the cruise, along with his father and several other cast members. Oliver has no idea that the yacht will capsize, his girlfriend's sister will drown, and he will end up trying to survive on a strange island for five years. His story is a dark and gritty saga, and the characters which populate his adventure are as often treacherous as they are good. His family is extravagantly wealthy, but there is a dark side to their lives and Starling City, which is their home.
As each episode unfolds, Oliver's present is mixed with flashbacks to moments of his time on the mysterious island. The brooding Oliver who has returned from that island is much different than the billionaire Oliver who left on the weekend party cruise. He has a purpose, defined by a list of names in his father's notebook. His purpose drives his actions, and his reason for living. Arrow is a dark and complicated story filled with secrets, difficult choices, heroic action and devastation…all the great stuff of drama and legend!
Choosing five heart-wrenching episodes is tough, but emerging from all the plot-twisting tragedies are these fan favorites:
1. Series Premiere, Episode 1 "Pilot"
The scene opens with Oliver, his father Robert Queen, and a third man floating in a life boat after the family yacht goes down. Robert knows that there aren't enough rations to keep them all alive. He is adamant that his son will survive, and makes Oliver promise to do so. It's the father's last wish for his son. He swiftly shoots the third man in the life boat, begs Oliver to promise to survive, and then shoots himself in the head. Seeing Robert Queen give up his life for his son, so that he can survive to continue the father's legacy, is heart breaking beyond measure. Oliver is a selfish young man who will grow through grief, shock, pain and suffering. Though nothing about the series is less than dramatic and intriguing, the first episode sets the stage for what is to come.
2. Season 1, Episode 23 "Sacrifice"
Tommy Merlyn dies trying to save Laurel. She's trapped inside her Glades office when Oliver isn't able to prevent the Undertaking. Starling City is shaken by its after-effects, and her building falls, trapping Tommy in a pile of rubble. Oliver arrives in time to dig Tommy out, but unfortunately, Tommy is seriously injured, and he dies. He apologies to Oliver, and the final thank you is what is completely heartbreaking. His death changes Oliver, and it also changes viewers. If Tommy can die, then anybody can, and nobody knows who is safe and who is not.
3. Season 3, Episode 22 "This is Your Sword"
After Akio dies during the Alpha and Omega virus outbreak, Maseo and Tatsu never get over the loss of their son. Their heartbreak changes them, and they try to survive beyond the tragedy in different ways. Maseo joins the League of Assassins and follows a new life path with a new identity. He hides his grief. Tatsu chooses seclusion. But, when Oliver is stabbed, Maseo takes him to Tatsu for healing. Their relationship changes and ends tragically when they ultimately enter what will be the fatal combat for Maseo; as Tatsu stabs him. When he falls, Tatsu gathers him into her arms and sings to him. It is the same song she sung to Akio, and she cries uncontrollably for both her dead son and her dead husband at the same time. Her regret and grief breaks her heart, and the audience grieves for all of them.
4. Season 4, Episode 18 "Eleven-Fifty-Nine"
Throughout the series, the relationship between Oliver and Laurel was always complicated. It began in the premiere episode when Oliver took Laurel's sister Sara on the family vacation weekend. When the yacht capsized and Sara died, the dynamics of Oliver's relationship with her father and Laurel took a deep turn toward the dark side. It was obvious, however, that Laurel still was in love with him. But, she couldn't get past the emotional baggage, even though they tried. When she is wounded and finally reveals to Oliver that he has always been the love of her life, the pain Oliver experiences is indescribable. When she dies, its unbearable. Oliver only survived on Lian Yu (which Yao Fei called Purgatory Island in English) because he had Laurel's photo and his hopes that they could reconcile. For the two to be so obviously in love, but unable to make it work out was awful. To see her die, ending any possibility for Oliver to have that relationship, was incredibly devastating.
5. Season 2, Episode 9 "Three Ghosts"
Oliver had much to learn from Yao Fei, who rescued and mentored him on Purgatory Island. It is Yao Fei who teaches Oliver the skills he will need when he ultimately returns to Starling City to become the dark hero he will be. Oliver falls in love with Yao Fei's daughter Shado. But she, Oliver, and Sara (who has inexplicably survived the yacht mishap) are captured. Anthony Ivo, their captor, forces Oliver to make a choice of saving either Sara or Shado. Though Oliver loves Shado, he chooses Sara's life and Shado dies. Oliver's sacrifice points him toward his hope of a future with Laurel. Unfortunately, this difficult choice is part of the evolution of Oliver's personality and essential to future events. But, making a life or death choice, and sacrificing a lover, is more painful than anyone should have to experience.