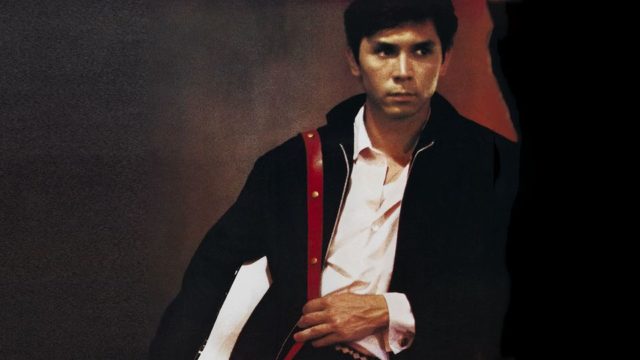 Lou Diamond Phillips is the kind of actor that comes around every so often and makes everyone's day just by being there. If he sticks around too long then it might be that he's not so popular any longer, but while he's there he's a favorite. He's been a guest on many a TV show and starred in a good number of epic movies that are still remembered to this day. He's also been in a lot of movies that went straight to VHS or DVD depending on the time period. He's still one of the best and most underrated actors out there though, no matter where he pops up.
Here are a few of his best performances for your viewing pleasure.
5. Stand and Deliver – Angel David Guzman
https://www.youtube.com/watch?v=PxkN_X4VUV4
He plays the tough guy that's defiant and doesn't want to learn up until he realizes just what it can bring him. The inner-city school problem is one that is persistent and is still being experienced today as we have so many kids with families that can't afford or somehow don't value their education. It takes a strong-willed and knowledgeable teacher to really stand up and believe in the kids to make others see that their education is worth everything.
4. La Bamba – Ritchie Valens
https://www.youtube.com/watch?v=6wRCCUVT5jE
Ritchie Valens was one of the most popular singers of his time despite the fact that he's not remembered all that well today. His big hit La Bamba is still heard blasting out of speakers now and again in clubs and other venues, so his music has at least endured. Phillips played this role fairly well but it was a movie that kind of came and went in the public consciousness.
3. The Big Hit – Cisco
https://www.youtube.com/watch?v=L29SqAybpQs
Cisco is that friend you know you value but you can't imagine why you keep hanging around him. He's also the type that will turn on his pals the moment it benefits him. He has no trouble turning on Melvin when he gets caught up in an unauthorized kidnapping that just happens to center around his boss's god-daughter. Once everything hits the fan Cisco is the guy that ducks and covers to make certain that he's not the one being targeted.
2. Supernova – Yerzy Penalosa
https://www.youtube.com/watch?v=ZUdy0Cu3f_o
Yerzy is the older guy with the young, attractive wife that has a few insecurity issues. He plays it off fairly well since his wife is absolutely crazy about him and stays faithful right up until they take on a passenger that's somehow so charismatic that she has no inhibitions when it comes to getting intimate. Yerzy doesn't really complain however since the item the stranger brought along takes up most of his attention right up until the moment the stranger kills him.
1. Young Guns – Jose Chavez y Chavez
https://www.youtube.com/watch?v=yp8hqVS6nq4
This is by far his best role, ever. Chavez is half-Mexican and half-Indian and is considered a type of mutt by both peoples. His Indian heritage however affords him a lot of weight with the Native Americans in the film as he follows their customs and their cultural norms. He is still one of the toughest and most dangerous of the Regulators though, and not the one that you'd want to cross.
Lou Diamond Phillips is still acting, and he's still just as great.
Save