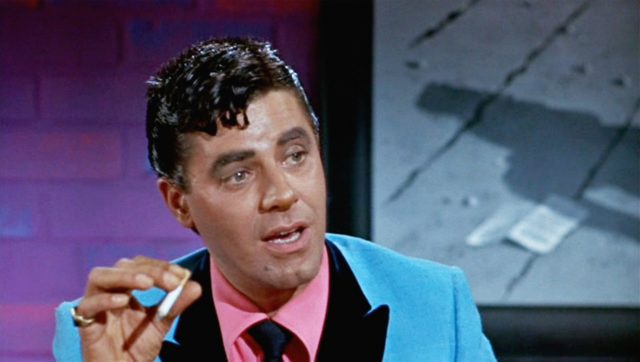 Jerry Lewis is an American actor, singer, comedian, screenwriter, director, producer, and humanitarian. He was born in Newark, New Jersey, on March 16, 1926. He is best-known for the comedy act 'Martin and' and his partner in this duo was Dean Martin. He is also famous for his roles in many films and is a legend in the movie industry. Sadly, Jerry Lewis died on August 20, 2017, in Las Vegas, Nevada. It is thought the cause of his death was cardiac and vascular disease. In memory of this talented actor, here are Jerry Lewis' five best movie roles.
1. The Nutty Professor
This science-fiction romantic comedy was released in 1963. It is based on the parody of 'Dr. Jekyll and Mr. Hyde' by Robert Louis Stevenson. In the film, Jerry Lewis stars as Professor Julius F. Kelp, Baby Kelp, and Buddy Love. Not only did Lewis take the lead role in the movie, he also directed and produced this film. Furthermore, he co-wrote the script with Bill Richmond. Others starring in this movie included Stella Stevens, Kathleen Freeman, and Del Moore. The movie was remade in 1996 and starred Eddie Murphy in the lead role.
2. The Bellboy
Lewis plays both Stanley and himself in this 1960 comedy. In addition to starring in the film, Jerry Lewis was the writer, producer, and director. It was Lewis' directorial debut. The movie follows a hotel bellboy as he finds himself in a variety of hilarious situations. Stanley, the bellboy character, does not speak until the end of the movie. The movie also starred Alex Gerry, Milton Berle, and Bob Clayton.
3. The Ladies Man
Lewis takes on two roles in this movie; Herbert H. Herbert and Marna Herbert. Like many of his films, Lewis was the writer, producer, and director of 'The Ladies Man'. It is about a man whose girlfriend leaves him and he then takes a job at a boarding house only for women. One of the women at the boarding house helps him to overcome his fear of women. Others starring in this 1961 comedy include Lillian Briggs, Kathleen Freeman, George Raft, Helen Traubel, and Buddy Lester.
4. The King of Comedy
Lewis plays Jerry Langford, a successful talk show host and comedian, in 'The King of Comedy'. Released in 1982, this is a satirical black comedy that also starred Sandra Bernhard and Robert De Niro. The movie was directed by Martin Scorsese and written by Paul D. Zimmerman. It is intended that this movie will be made into a stage musical for Broadway.
5. Rock-a-Bye Baby
In this 1958 musical comedy, Lewis plays the leading role of Clayton Poole. The story is loosely a remake of 'Miracle of Morgan's Creek', a 1944 Preston Sturges movie. Others who star in this movie include Reginald Gardiner, Connie Stevens, and Marilyn Maxwell. It was written and directed by Frank Tashlin. In addition to being released in 1958, it was also re-released in 1962 as a double bill with 'Don't Give Up the Ship', another movie starring Jerry Lewis.
Tell us what's wrong with this post? How could we improve it? :)
Let us improve this post!