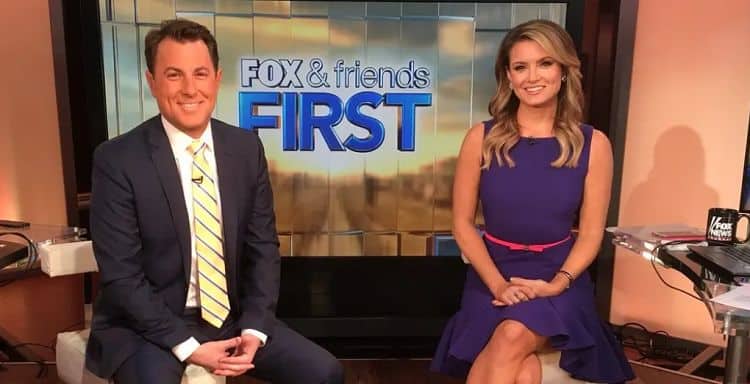 Todd Piro is a man whose face everyone is accustomed to seeing on a regular basis. He's the main anchor on "Fox and Friends First," which is on the air every single morning of the week. Anyone who watches Fox between 4 am and 6 am knows him, loves him and enjoys seeing him on their screen, but he's been noticeably absent as of late. Where is he? What is he up to? Well, he's off work for six weeks. He and his wife just had a baby, and he took paternity leave. He's home bonding with his family, and now his fans want to know more about him.
1. He's in His 40s
Todd Piro was born on March 28, 1978. Interestingly enough, however, we don't know where he was born or where he was raised. His information online doesn't share much about his early life. It's focused on his professional life, but that's all right.
2. He's Well-Educated
When he finished high school, he knew immediately it was time for him to head off to college. He attended courses at Dartmouth, where he obtained his BA in government. That was in 2000. He then decided to pursue a law degree from UCLA. He graduated with that in 2003.
3. He Was an Associate
He did not immediately go into journalism. Instead, Piro graduated with his law degree and headed off to become an attorney. He was an associate at a firm called Hughes Hubbard & Reed for almost five years. However, he had other things in mind after spending time there.
4. He Was a Fox Intern
Before he ever graduated from college with his law degree, he was interning at Fox News. He began that route in 1998, but eventually went to law school. However, journalism was always something he wanted to take part in. It was 2008 when he went to work as a reporter and began anchoring local morning shows. By 2012, he was working for NBC in Connecticut.
5. He Tested Positive for COVID
He was given the title of the lead anchor on his morning show back in August of 2020 when Rob Schmitt left and headed to the hugely popular Newsmax platform. However, he was only on the job for a few months when he tested positive for COVID-19 and took some time off work to quarantine in November of 2020. He was back before the year was over.
6. His Wife is Also a News Anchor
Piro is married to Amanda Raus. She is also an anchor for Fox News, and she just had a baby girl. The couple welcomed their daughter in late 2020, and they are so happy to get to spend some much-needed quality time with her. Todd Piro decided that he would take the time off work that he is allowed to spend the next six weeks at home with their baby girl now that his wife's maternity leave has ended and she's back to work.
7. He's Funny
He's been keeping his fans up to date on his Twitter account about how life as a temporary stay-at-home dad has been working out. It turns out, he's hilarious. He's sharing with his followers all the need-to-know hacks about parenting, such as what that smell might be, and how to know if it's going to be a really bad situation.
8. He Met His Wife at Work
When he took a job with NBC in Connecticut, he met his wife. The couple worked together, and he knew right away he'd marry her. He called it love at first sight for himself, but they didn't start dating for a few months. They wed in 2015.
9. He's Been Married Before
Todd Piro was married once before, but he does not discuss his previous marriage. It obviously ended, and he is only interested in his current wife and their daughter. His private life is his own, but it seemed like something worth mentioning when you're looking for more information about him.
10. He's Doing Well
Piro and his wife are doing quite well. They have a happy marriage. They have great careers. They have a little girl who is their entire world. They also have an estimated net worth of around $5 million, which is a great net worth to have when you're raising a family. Between his career and hers, they're doing well in life, and it shows in how happy they are and how much love they have for their baby.
Tell us what's wrong with this post? How could we improve it? :)
Let us improve this post!