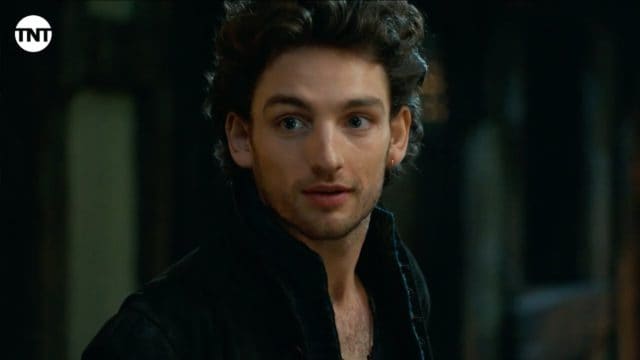 Right off the bat, I'm going to say that this may be TNT's grittiest, most daring drama yet. It's a gamble to write a series about the unknown years of arguably the most famous playwright in history. Merging pieces of fact and fiction together in the vacuum of Elizabethan era politics and intrigue is the ultimate challenge, and Will rises to the occasion spectacularly. Don't expect to be hit with the bulk of Shakespeare's greatest hits, for Will's poetry is far more dispersed at this point, and his tale much darker. Therein lies the true magnificence of this series: it's no holds barred.
Be it 2017 or late 1500s, "London Calling" is the only appropriate theme song to start this journey. It's quite literally the calling card for the great historical city. You'll find a lot of modern rock music attached to the show, in part to tie together 500 years that seem to be so far apart in social climate, but are most definitely not. That's where the light, carefree nature of the show ends. Because so little is known about Shakespeare's early time in London, this fictional telling leaves a lot to the imagination. Shakespeare's individual movements are a gap largely filled amidst a time ruled by subpar entertainment, the best of which (according to the consensus of the people of the time) included gruesome public executions.
While William Shakespeare and his fellows' stories are dramatized, there is one character who is all too alike to his historical counterpart. Richard Topcliffe is not a positive reflection of Queen Elizabeth I's reign, but he served his purpose. As a member of Parliament in the Elizabethan era and the country's chief executioner, Topcliffe took great pleasure in driving all non-Protestants into the ground. Remember, at this time Catholicism was taboo in England, and Elizabeth needed someone like Topcliffe to make a statement. Far from pretty, but effective. Will nearly becomes Topcliffe's next victim himself, until a quick intervention puts another playwright on the chopping block.
Christopher Marlowe's involvement with the deplorable investigator is also not that far-fetched, as many historians theorize that Marlowe was in fact a spy. Jamie Campbell Bower takes on the role with a dangerous, captivating combination of malice and curiosity. Like a cat luring in its prey slowly by the tail, Marlowe is just a little bit crazy in his machinations, both political and otherwise. The only reason he saves Will from being outed as a Catholic is that he finds young Shakespeare alluring, both in talent and other things.
These two are extremely dangerous threats to Will, yet there is a wild card in this equation. Why should a young street kid be a threat to the greatest playwright the world will ever know? Because he knows exactly who Will is, and motivated to get his sister out of prostitution, he'll burn the man to the ground if it will benefit him. As evidenced in the premiere, this is one kid you don't want to cross on the street. He may be small, but he's downright terrifying.
Will comes to the big city full of hope for his future. Through the ups and downs of the first two episodes, Will is given the chance to prove himself time and again. (Sidenote: Whoever wrote Will's Poetry Slam deserves an Emmy!) He falls in with the Burbage family's theater, and grows particularly attached to their daughter Alice. This is ill-advised since he has a wife and three children waiting for him at home. From this point forward, Will Shakespeare will be caught between two women, two religions, two paths, until he finally becomes the playwright history knows.
Will you tune in to see this time in William Shakespeare's history?