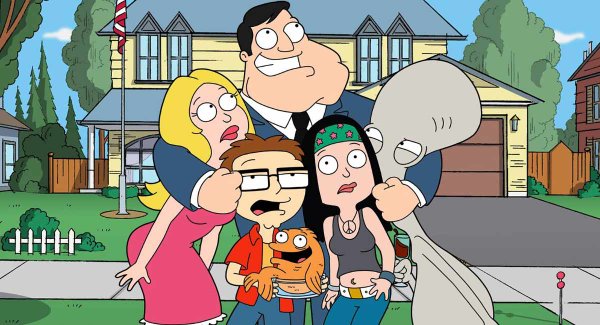 As stated by Variety, Season 16 of American Dad started up on February 11 of 2019. This is remarkable because while it hasn't maintained a constant presence in the spotlight, it has nonetheless managed to become one of the longest-running shows that can be found on the TV screen. With that said, while American Dad's longevity makes it clear that it has a fan base to call its own, one can't help but feel that there are some things that it could improve on. Of course, these opinions will differ from person to person, meaning that they won't agree with everyone who still follows American Dad on TBS. Here are 10 things that we think that American Dad could do better on:
1. Less Exaggeration of Character Traits
The exaggeration of character personalities based on certain traits can sometimes seem either inevitable or next to inevitable for long-running shows. For proof, consider how this phenomenon has become called "Flanderization" by a lot of people, which in TV Tropes's words, refers to how Ned Flanders from The Simpsons has been boiled down to a catchphrase plus what one might call a strong sense of enthusiasm for Christianity. American Dad hasn't suffered from this as much as, say, Family Guy, but it has nonetheless experienced this to an extent, meaning that it would be nice for it to be dialed back a bit in this regard.
2. Acknowledge That Character Development Happened
On a related note, it would be nice if the American Dad characters acknowledged that character development has happened on a more regular basis. With that said, this doesn't necessarily mean that said characters have to be improving themselves on a constant basis, seeing as how it is perfectly possible for people to either backslide or fail to learn that lessons that they have experienced.
3. Let More Character Development Happen
Having said that, it would also be nice if the show let more character development happen. On long-running shows, characters making the same mistakes again and again can create a real sense of frustration, meaning that it could be helpful to mitigate that to some extent. For that matter, the American Dad characters have a lot of flaws, meaning that some character development won't be able to change them beyond recognition.
4. More Even Distribution of Focus Episodes
The distribution of focus episodes between the members of the American Dad main cast has seen some serious swings over time. As such, it would be nice if each season had a more even distribution so that no single character gets left out much more than the others.
5. Bring Back Side Characters
American Dad has a strong selection of side characters, which includes a fair number that haven't been featured much on the show for a long time. In some cases, this is perfectly understandable because the people playing them are no longer involved, meaning that there isn't much that can be done about that. However, there are plenty of other examples for whom this isn't really applicable.
6. Continue the Stories of Side Characters
Theoretically, the side characters could be very useful for boosting the show's sense of continuity by continuing their stories. This is because the side characters don't have to be featured on the show unless the people writing it want to, meaning that the consequences of their continuing stories can matter exactly as much as said individuals want them to but no more than that. Something that can't be said for the main cast members because the similar use of similar consequences in their cases would have to be much more constant.
7. Bring Back Politics
American Dad started up with a fair amount of focus on politics, as shown by how Stan and Hayley have very different opinions on political issues. Over time, the show has reduced this focus to some extent for focusing on other matters. This is a shame because the setup is very well-suited for political-themed storylines without overwhelming everything else in the process. After all, while both Stan and Hayley are very politically-minded characters, the same can't be said for the rest of the members of the Smith family with the potential exception of Klaus depending on how seriously one takes some of his one-off comments.
8. More Willingness to Delve into Darker Topics
Speaking of which, both Family Guy and American Dad are willing to bring up dark topics. However, while Family Guy tackles them in a rather superficial manner that can sometimes have some rather unfortunate implications, American Dad has been handled much better, meaning that it has managed to come off as being not just funnier but also smarter in some very meaningful ways. As such, it might be interesting to see what would happen if American Dad was even more willing to delve into darker issues, though not so much so that it overwhelms the rest of the show's nature.
9. More Willingness to Use Less-Used Pairs
One of American Dad's strongest points is that its main characters can pair off very well with just about everyone else, which isn't something that most shows can claim. For example, consider how focus episodes have seen Roger being paired with everyone from Stan and Steve to Francine and Jeff. Due to this, it could be fun to see the writers challenging themselves by doing more of the less often-used pairs, which could add a sense of freshness to the show.
10. More Willingness to Incorporate Morals into Stories
Whether shows can be fine without some kind of message embedded at their core is a subject that is worth debating over in its own right. However, there can be no doubt about the fact that American Dad has often benefited from being willing to incorporate morals into its stories because those messages provide those episodes with a sense of structure that saves them from just blurring into an unending stream of zaniness. Something that can be great in small doses but can also quickly become exhausting when it comes in a ceaseless torrent.
Tell us what's wrong with this post? How could we improve it? :)
Let us improve this post!