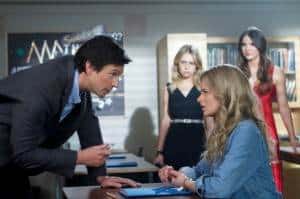 How do you follow up a series-best episode? It's not the worst problem in the world to have, hitting your creative stride and subsequently raising your game, but it is a problem that could trip up any promising show. You want to continue growing and expanding the central plot while doing the things that have worked well for you recently, a sort of one-foot-on, one-foot-off approach to storytelling that could be the difference between propelling forward and narratively stalling out. After a season heavy on promise and light on delivery, The Secret Circle peaked last week with "Traitor", a funny, suspenseful episode of television that stacked their typically interesting visuals with equally impressive plotting and a real sense of danger. But could they keep it up on this, the penultimate episode of their debut season?
In a word, yes. "Prom" may not have hit quite the highs that "Traitor" did, but it nonetheless felt like a leap forward in both quality and momentum from where the series had been earlier in the season. The cliffhanger from "Traitor", the discovery that Nick was still alive, brought a lot of tension to the episode, due to the fact that there was something not quite right about him post-resurrection. His mere presence shook Melissa and Jake up, as to be expected, and the wild-eyed glare that he had in his eyes made every second of screen time the character got crackle with uncertainty; though a part of me was disappointed that Nick (or, the demon still inside Nick) met his untimely end, his death brought a lot of (needed) change and closure for Melissa. Admittedly, I thought that The Secret Circle would play on the typical "Melissa as victim" plot that has been trotted out multiple times already, so be still my heart that she was the one that put the dagger in Nick to save Jake, using another sharp object to have a go at her lingering feelings for her former love. It was such a cathartic moment to see her stand up for herself and make the choice to live instead of wallow in her pain, possibly a sign that the Melissa we see going forward will have just a bit more inner strength to her after doing some major growth here. On a series as centered on the past as The Secret Circle, it can be hard to look to the future, but Melissa may have adjusted her focus just in time.
Part of the fun of "Prom" came from the exploration of the past, since Diana and Cassie got to travel back in time to find the other crystal. In the process, they found their mothers right before the boat fire, stirring up a lot of old feelings and finally proving to Cassie that Blackwell cannot be trusted. The witches spend so much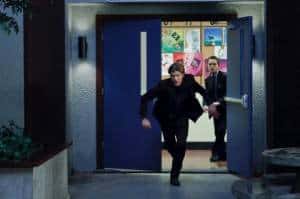 time talking about, worrying about, and reading about what happened in 1995 that using tricks like they did tonight breaks up the monotony and gives us something visual to go by. Similar to the device that Cassie used to get into Jake's memories, the spell she did tonight allowed us to get a feel for what the parental circle was like, a firsthand account of their dynamics and what could have been going through their mind at the time of the fire. (Plus, the emotional wounds of their deaths made everything about the time travel more personal, more painful, more human.) It's especially important to get this kind of exposure to that period in time due to Blackwell's untrustworthy actions and demeanor, which became clearer after everything that Amelia told Elizabeth. Blackwell came into town on some Father of the Year business, but in each proceeding episode, he's uncloaked his manipulative streak, his evilness, his half-truths, to the point where the real John Blackwell seems to be making an appearance after all. (His psychological torture of Charles, mirroring the pilot and demise of Amelia, was awesomely creepy.) And Cassie now knows about Blackwell engineering his own personal circle in each of them, which will make next week's finale that much more tense.
The cliffhanger at the end of the episode, with Faye being abducted by Eben, hit especially hard because the Faye of "Prom" had dropped her guard some. Not to the point where she cut down on her snark or anything – just to the point that she allowed herself to be a little vulnerable and to want a romantic prom night, complete with a limo and champagne. Though I love the humor that Faye can bring to even the dourest episode of The Secret Circle, it's nice to bring her down-to-earth once in a while and have her be just Faye, not a one-liner machine or an aloof bad girl. I liked that they let her and Jake have a moment together, as their unresolved past had come up again thanks to it being prom-time, and that they ever so slightly deepened their connection beyond the physical. Granted, their physical chemistry is just ridiculous (in the best way) and you can see why they're drawn to one another otherwise, but stuff like Jake's apology in the junkyard takes it from being an aggressive booty call to something a little more real and tangible. Which goes back to why Faye's abduction made such an impact – she's arguably the strongest member of the circle (that isn't Cassie), but we just spent an hour with her struggling to open up about having her feelings hurt.
The Secret Circle may not have touched "Traitor", but they did pretty damn good with "Prom", a promising episode that found the circle working together well and not falling into the dim decision-making of previous episodes. It was a well-paced, appropriately dark bit of television that had the magic coming off about as good as it had been all season, a lot of emotionally sincere material (Melissa fretting about the circle's lack of normalcy was kind of poignant), and one heck of an ending. A good portion of the plots in "Prom" focused on the idea of confronting the past, with Faye and Jake coming to terms with their rocky past, Melissa putting a metaphorical stake in the idea of Nick, and Charles being haunted by his actions in the pilot. The Secret Circle may have only recently put it all together after a rocky past of its own, but if it keeps this type of quality up, it could make a pretty huge leap forward come season 2.
Thoughts, Quotes, & Observations:
-"Looks like our insane standards just got insaner."
-"That look like you're about to invade a small country with nothing but your tortured soul."
-"Way to bring the room down, Cassie Blake."
-"I just pray she doesn't get any of his darkness."
-"Keep playing with that knife in your pocket, people might get the wrong idea."
-"I knew I should have brought demon chasing shoes."
-I'm sure I'm the last to put this together, but am I the only one getting the vibe that Grant is bait that Blackwell has been using to lure in Diana?
-How scary-similar were Amelia and Elizabeth to Cassie and Diana? Great performances/writing there.
-The necklace that Charles gave Diana: what power do you think it has?
-Next week on The Secret Circle: Jake, Melissa, and Adam go after Faye, Blackwell tries to get Diana and Cassie to unleash the crystal skull on the witch hunters, and Dawn and Charles might be able to get their powers back.