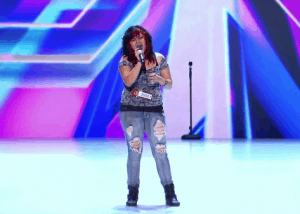 Tonight The X Factor forged ahead in their quest to find the next big star and this time, they kicked it off in Kansas City. One thing I will say for The X Factor is that they have definitely decided to focus on the talent this season, leaving the cringe worthy auditions little air time with only montages of those who did not possess 'The X Factor.' This format works very well for two reasons: 1) No one wants to listen to bad, off key singing for two hours and 2) The abundance of talent gets viewers excited for the next round.
There truly is no shortage of talent this season on The X Factor with everything from free styling rappers, ala tonight's Rizzloe Jones, to family men like 37 year old Tate Stevens, who channeled his inner country crooner and impressed all four judges. One contestant who had obviously planned to woo Simon with his favorite song "Unchained Melody" found out quickly that it was easier said than done (especially since Simon was M.I.A.) when her version fell flat. Luckily for Miss Cece Frey, the judges gave her another opportunity and she killed it with Christina Aguilera's "Aint No Other Man."
Also impressing The X Factor judges enough to make it to the next round was Vino Alan, whose tattooed head did not prepare the audience for the soulful rendition of "Trouble" that he delivered. Ally Brooke, who had emotion to spare, performed a beautiful version of "On My Knees." The only complaint from the judges on her performance was that she wouldn't stop singing to get her critique, but after Simon finally managed to get her to stop singing, the judges declared her an "easy breezy" yes to the next round. Another contestant viewers and judges alike won't soon forget was Panda who gave what was easily the most charming performance of the night with her version of "Bring It on Home" that she sang in large part to Simon, with whom she was clearly smitten.
Despite the mostly positive tone The X Factor has been maintaining throughout the season so far, there are some stories that are just too good to pass up. The introduction leading up to Deangelo Wallace's audition was so overly confident and obnoxious that viewers were tipped off immediately that he would most likely be no good. What we weren't expecting was for the judges to walk off without even bothering to critique him because he seemed to be making a joke out of the whole experience. Ticked off that the judges had left and not put him through to the next round, Deangelo stole the $3,000 microphone he was wearing, earning him a spot in jail.
Up until tonight, we hadn't seen a whole lot of action in the area of groups on The X Factor, but tonight we got a taste of a few that we can expect to see at boot camp. 'Citizen,' a boy band whose biggest concern seems to be hair product, made it through but only with three yes votes. Simon gave this group a no and I would have to agree whole heartedly. Although their voices were okay, the choreography was so cheesy I couldn't get past it. Also joining Citizen in the groups section was the sister trio 'Sister C' and the brother duo 'Jeremiah and Josh,' both of which showed tremendous promise.
Every time I think I've got my favorite picked for the season, The X Factor pulls out a new contestant that makes me rethink my decision. Tonight it happened twice just in this episode with 13 year old Diamond White and Jessica Espinoza. Diamond, who couldn't be any cuter if she tried, knocked a very grumpy Simon's socks off with her version of "This is a Man's World," earning her an easy place in the next round. Jessica sang Pink's "Nobody Knows" with such emotion and an amazingly gritty, but appealing tone that Simon dubbed her his favorite audition of the night.
On a side note, I am loving Britney Spears as a judge on The X Factor, but is it just me, or did anyone else notice that even though Demi was the one who suggested celebrating L.A.'s birthday, Britney somehow got all the credit? Oh well, that's neither here nor there. With only three episodes of The X Factor under our belt, it's hard to believe the quality of talent they have already accumulated for the next round and it's not over yet. The X Factor hits Greensboro tomorrow.
The X Factor airs Wednesdays and Thursdays at 8/7c on Fox.