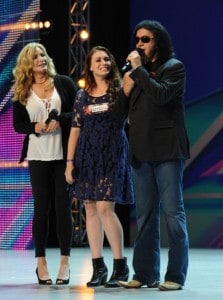 Tonight kicked off The X Factor's final week of auditions, in which the judges' panel headed east to Providence, Road Island in their quest for talent.
Starting off the night was a pair of men by the names of Adonis and John, also known to only themselves as "Original Greeks." This seemingly confident duo declared that they would be singing Lionel Ritchie's "Hello," which seemed like a unique choice. Unfortunately, Adonis lacked the singing skills to back up John's random "yeah" that was thrown in here and there in an attempt to put a rap spin on the song. With a lot of laughter and even a few "yeahs" of their own, the judges gave four solid no's to the pair.
After a rocky start to the night, fifteen year old (but looking like a 20 year old) Dinah Jane Hansen took the stage and shared with the judges that she lived in a four bedroom home with 20 other people. It was her hope that The X Factor would offer her the opportunity to help her family, which, based on her audition, is more than just a shot in the dark. Belting out Beyonce's "If I was a Boy," Dinah wowed the judges panel, the audience, and every viewer at home with a rendition of the song that rivaled the original.
Next up was returning contestant Arin Ray, who had auditioned for The X Factor in season one, only to be put in a group later on in the competition and sent home. With a renewed confidence that even Simon commented on, Arin sang an impressive original song that earned him a spot in Boot Camp.
Following the impressive auditions from Dinah and Arin, The X Factor went montage crazy and gave mere snippets of auditions both good and bad. Although it was hard to really tell, the teenage crooner Nick Perrelli and the seemingly sweet fourteen year old Beatrice Miller both seemed to offer promise that will be interesting to see in the later rounds.
After the jam packed segment filled with bits and pieces of auditions, The X Factor moved to focus on Austin Corrini, whose boy band good looks and faux hawk hairstyle immediately got him attention in the line waiting to get in to audition. With mini-groupies swarming him asking for hugs, he confidently obliged and signed a few arms with a Sharpie as well. When it came time to actually sing, he did a fair job, hitting the notes and using his charm to appeal to the audience, but Simon said he wanted more than the 80 percent he felt like they were getting. Based on what they felt he could deliver in the future, however, Austin received four yeses, making groups of tweens everywhere sigh and scream.
Also impressing the judges was David Cory, who hoped that by singing on The X Factor it would help him reconnect with his birth mother whom he had never met. With a very pitch perfect version of Bruno Mars' "Just the Way You Are," David quickly earned the judges' approval and even a few teary eyed moments from Britney.
Next, The X Factor headed to San Francisco where first to audition was the legendary Gene Simmons' daughter, Sophie Tweed-Simmons. She admitted that initially she didn't even tell her parents she was auditioning in a quest to do it on her own, but once they found out, they insisted on being there to support her. With a slightly shaky, but nicely sang version of Adele's "Make you Feel my Love," Sophie impressed all but L. A. Reid, who thought she needed to deliver more goose bumps. None the less, the three yeses she received from the remaining judges earned her a spot in Boot Camp as well.
With a lot of camera time leading up to her audition, Tara Wilson had already earned the role of mean girl auditioner for the night's auditions. With a good amount of bragging about her accomplishments and a fair amount of cattiness towards other contestants, especially Sophie Tweed-Simmons, Tara easily was the least likeable singer of the night. Therefore, when she took the stage and sang "Without You" in a very overdone, but yet impressive manner, viewers felt less like cheering and more like groaning. With the judges oblivious to the attitude that the rest of us had witnessed, they enthusiastically put her through to the next round.
Last up to audition for the night was father of five, Daryl Black, who took on Gym Class Heroes' "Stereo Hearts" in a style that was all his own. With a performance that drew comparisons to Nat King Cole from Simon, Daryl easily slid into the next round.
Before wrapping it up for the evening, The X Factor introduced viewers to Trevor Moran, a precocious thirteen year old boy who loved singing and dancing for the videos he made to post online. As he jumped around in line making new friends and recording himself for new videos, viewers began to anticipate how this kid would fair in his actual audition. Just as he was called to go on, however, cameras panned to a very pale and very still Trevor laying on the floor with his head in his mom's lap. The X Factor called in paramedics and we, the audience, were left with a very dramatic 'to be continued.' Way to get us to tune in tomorrow, Fox.
Tomorrow night marks the final night of auditions for The X Factor in which the last of the contestants making it through to Boot Camp will be selected. We'll also get to find out poor Trevor Moran's fate and whether or not he'll even get to audition.
The X Factor airs Wednesdays and Thursdays at 8/7c on Fox.