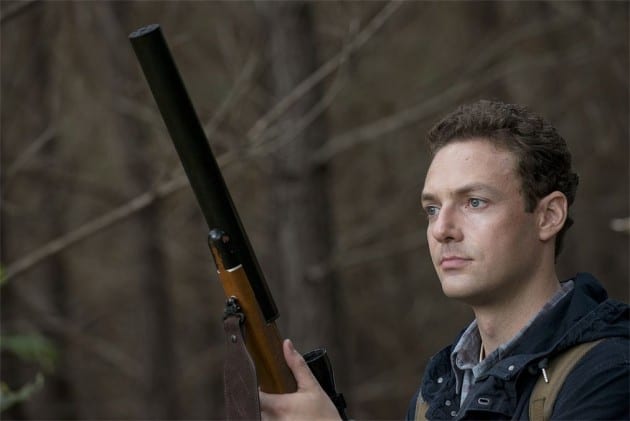 Rick's always been his own worst enemy. In early seasons of The Walking Dead, his inability to make difficult decisions proved deadly to his group, his family, and himself – and in later seasons, his withering, conflicted morality has shown to be a great deal of stress for him, a man trying to balance being a father, a leader, and a survivor, the values of all three clashing together at every turn. In Alexandria, however, it appears Rick Grimes may be our antagonist in the short-term – a wonderful flipping of the tables that pits Alexandria's constable against the town he's supposed to protect. Okay, it's not quite the premise of Banshee, but "Forget" presents us – for the first time in awhile – a new direction for our characters: that is, a devolution into evil.
Maybe evil isn't the right word – but given Carol's speech to Deanna's child about keeping his mouth shut, it's clear there's something nefarious at play with our merry band of paranoid survivors. "Forget," like its predecessor "Remember," is about characters trying to let go of the experiences that preceded Alexandria, and mostly failing to do so. Even as the group gets farther integrated into the government and social structures of Alexandria, characters like Michonne and Rick are pushing inward, burrowing down and assimilating with people they already assume are their enemies. Characters are slowly starting to buy into Alexandria and what it offers (though we don't see many of them this episode; "Forget" is a very budget-friendly episode of The Walking Dead, in terms of cast), but Rick, Carol, and Daryl continue to resist, stealing weapons and hiding them in the shed near the gates of the town (though there is that missing pistol; that could prove to be a problem if they keep losing weapons they stored there, possible theft by whoever is carving "W" into the heads of people).
Turning Rick and Carol into the makers of their own destruction is an interesting move for the show: of the many characters on the show, Carol and Rick are the two least conflicted, two characters so sharply defined by their resistance to change makes absolute sense. For them, "Forget" is a strong hour of character building – and then there's Sasha, whose lack of consistent characterization turn her into a schizophrenic in this episode, reeling from the death of her brother, and ultimately moving back outside Alexandria's walls. Unfortunately, there isn't as much care put into Sasha as there was with Carol's awesome speech ("I'll make you all the cookies you want… I know what I would choose!") and Rick putting a gun in his waistband, just to feel the weight there. Sasha's always been a character who sits in the background until she gets dramatic in brief intervals – and her decisions in "Forget" undercut a lot of the strong work elsewhere in the hour, putting a strain on the credibility of her character by presenting her rash decisions next to the much more measured (though equally paranoid) portrayal of other long-term characters. She hasn't had so much of an arc as she's had a series of peaks and valleys as a character – and none of it has been very substantive, which makes her shooting family pictures a little less haunting than it could be.
Despite that weak pocket, much of "Forget" is strong material – and for the first time, shows The Walking Dead's ambition to break out of its usual cycle (even as it still finds ways to get people attacked outside the walls, so the zombie quota continues to be filled). What really seals it are the honeypots presented to characters to draw them into a world they don't want to embrace: this seduction is focused on Rick (with Jessie, who is married – but clearly is going to sleep with Rick) and Daryl, who has a family dinner with Aaron and Eric, gets offered a job as recruiter, and gets a second job working on putting a motorcycle together (and yet still eats possums on the front porch, and refuses to shower). The resistance to Alexandria fades away when the two are offered something they truly lust for, and it's that seduction that makes the closing moments of the episode so hard for Rick to comprehend. Here, they're actually safe: relationships won't be interrupted by sieges, zombie hordes, or death by insane people, at least until Rick's group destroys the peace Alexandria has fostered (or just put on a good front for). He can hear the zombie on the other side of the wall, and Rick almost pines to go kill it, but that's not a necessity anymore, not in Alexandria.
That inner conflict really sets the table for the last three episodes of season five, in a way that genuinely feels refreshing (don't forget Morgan's still on the road, and whoever puts W's on foreheads lurks in the shadows: there's a lot of potential conflict building here). The Walking Dead may never truly reinvent itself, but turning the conflict inward is a strong move for the show, and one that put on display the much-improved character building the show's employed over the last two seasons. "Forget" is able to piggyback off all that, and throw some shade on our band of bloodied survivors, an intriguing move heading into season five's endgame.
[Photo via AMC]